Skip to content
Skip to navigation menu
You have setup the following Repeat Order: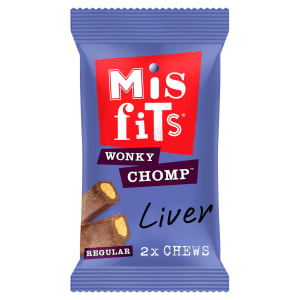 Misfits Wonky Chomp Adult Medium Dog Treats
Product details
Misfits Tangly Twists are tasty twists flavoured with beef and cheese. These delicious Tangly twists can be untangles, unwound and undone, giving your dog plenty of time to play with his/her treat. 7 Treats Per Pack Misfits Scruffy Bites are mouth watering morsels with no artificial colours or flavours. These delicious Scruffy Bites can be given as a treat or a healthy snack. For small dogs feed up to 6 pieces per day. For medium dogs feed up to 12 pieces per day. For large dogs feed up to 20 pieces per day. Misfits Wonky Chomp with delicious liver is a fantastic wonky chew for your for legged friend. This treats come in a pack of 2 and can be given as a snack, treat, reward or training aid. Small dogs can be given up to 2 chews per week. Medium dogs can be given up to 3 chews per week and large dogs can be given up to 6 chews per week. Misfits Nasher Sticks are flavoured with scrummy chicken and beef. Includes 7 Sticks. Feed up to 4 sticks per week for small dogs, for medium and large dogs feed 1 stick per day. Misfits Ruff Rips are long flat delicious strips with a medly of yummy meat flavours.Rip them, tear them, hide them, throw them – whatever your dog loves with the meaty taste and texture of Rip Ruffs. Misfits Motley Mixes are scrumptious little nibbles, ideal for treating your well-deserving pet. Free from any artificial colourings and flavourings they are the perfect little snack for in-between meal times. This tasty combination of salmon and beef flavours will leave any dog wanting more, making them great for rewarding good behaviour or for using as training aids.