Skip to content
Skip to navigation menu
Natures Menu Dog Food Multipack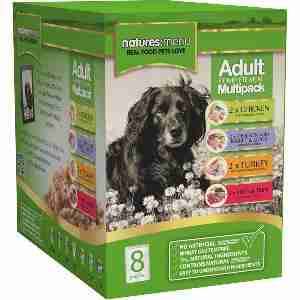 Product details
Natures Menu dog food is a raw meal that's packed full of vitamins and minerals to keep your dog healthy.
How it works
This mix contains a unique combination of vegetables, rice and meat that provide your pet with the nutrients and minerals they need to stay healthy into later life. It's packed full of fibre to aid digestion, which means that your dog is able to absorb all of the goodness from every bite of their food. Protein from quality meat helps your pet maintain lean muscle mass and gives them lots of energy to run and play.
Vegetables provide key vitamins that support the immune system to help fight off illness. Free from chemicals, preservatives and additives, this complete food is gentle on the stomach. It's perfect for pets who suffer from allergies and intolerance to food.
Key benefits
made with balanced, raw ingredients and real meat
no chemicals, preservatives or additives
all meat is cut, chopped or minced for easy digestion
easy-to-open pouches
pack of 8 x 300 gram pouches
available in four flavours: chicken, beef and tripe, turkey and chicken, and chicken, rabbit and duck
When to use it
A raw diet can help to improve your pet's overall health. It's been proven to boost energy levels and keep the skin strong and the coat shiny. Thanks to its high vitamin E content, this mix helps your pet's skin to repair itself. This is essential if your dog has suffered from an allergic reaction, as their skin can become sore and irritated.
Raw dog food can also help to keep your pet's bowel movements regular. It decreases the size of stools, meaning your dog is absorbing more nutrients from their meal.
Ingredients
Ingredients: Chicken min. 61%. Peas min. 4%. Carrots min. 4%. Rice min. 6%. Minerals. Various sugars. Turkey min. 40%. Chicken min. 20%. Peas min. 4%. Carrots min. 4%. Rice min. 8%. Minerals. Various sugars. Chicken min. 35%. Rabbit min. 20%. Duck min. 5%. Peas min. 4%. Carrots min. 4%. Rice min. 8%. Minerals. Various sugars. Beef min. 40%. Tripe min. 20%. Peas min. 4%. Carrots min. 4%. Rice min. 6%. Minerals. Various sugars.
Customer reviews
Product reviews are filtered by language.
The following reviews are available in English.
Quality food

My dogs really enjoy a little bit of this mixed in with their dry food. Easy to take away in the caravan as no freezing necessary.

Natures menu

My spaniel has a sensitive stomach but loves this food

Natures Menu pouched dog food

My little whippet loves this food. Always a licked clean bowl. Very handy having variety pack and no need to store in the freezer so great for visiting friends and family.

THE BEST DOG FOOD ON THE PLANET

Our boy has a very tricky digestive system but he never has a problem with this food. Good choice of flavours so he never gets bored and we have no waste. Worth every penny and we will never buy anything else now.

Dolly's Dinner

At last something which Dolly loves and which doesn't upset her tum. I'm really delighted with Natures Menu, it's made life easier for me.