Skip to content
Skip to navigation menu
Nullodor Kitten Litter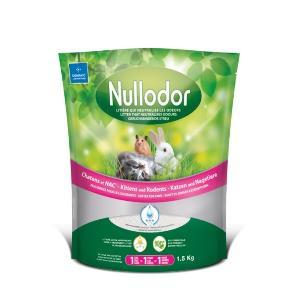 Product details
Nullodor Kitten Litter absorbs odours and nasty smells before they get a chance to develop and become unpleasant. It is also suitable for small animals such as rabbits, rodents and hamsters.
How it works
A new generation of litter granules, the micro-pored crystals work fast to absorb liquids efficiently, constantly providing your kitten with a pleasant and dry litter tray that lasts for 4 weeks. Along with being dry, the litter is antistatic and dust-free which prevents it from sticking to your kitten's paws and being spread around the house. It can also be used to line the base of a small animal cage.
Key benefits
reduces unpleasant odours
continuously absorbs
does not stick to paws
100% biodegradable and natural
non-toxic and safe
When to use it
If you have a small animal, pets that stay in overnight or you're toilet training your kitten, Nullodor for kittens and small animals is the perfect solution. Designed to control odours, the litter is well suited to small spaces. One bag should last one month per animal. However, the litter should be changed once it stops absorbing odours.
Customer reviews
Product reviews are filtered by language.
The following reviews are available in English.
Pleasant to handle

Product is very pleasant to handle. It feels super soft and fine, it doesn't create any dust when poured into the tray and seems to bind the smell sufficiently. The packaging is sturdy and can easily be resealed