Skip to content
Skip to navigation menu
Nullodor Mature Cat Litter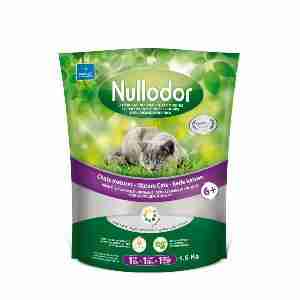 Product details
A revolutionary cat litter, Nullodor Mature Cat Litter reacts to abnormal urinary elements, making them immediately visible, helping you to track of your cat's health.
How it works
Nullodor Mature Cats is designed to highlight elements such as blood, bilirubin and alkali in your cat's urine by changing the colour of the urine from a pale to dark yellow to more of a banana yellow or olive colour.
As well as being an indicator of some diseases, the Nullodor crystals absorb odours straight away. This make the litter perfect for small spaces. It is eco-friendly too, as it is made with bio-degradable products. One bag is suitable for one cat for one month.
Key benefits
extremely absorbent
eco-friendly
antistatic, does not stick to paws
health indicator
innovative micro-crystals
non-toxic
zero odour
proven antibacterial action
When to use it
Once a cat turns 6, they are much more susceptible to developing urinary infections. Most cats will try their best to hide when they are ill, making it hard to diagnose them early. With the Nullodor health detection system, you can identify and treat your cat's infection much sooner. As Nullodor cannot diagnose all urinary anomalies, should still consult your vet if you notice that your feline friend is behaving differently.
Customer reviews
Product reviews are filtered by language.
The following reviews are available in English.
CAT LITTER

VERY GOOD PRODUCT, MY CATS DID NOT LIKE IMMEDIATELY, AS THE GRANULES ARE MUCH SMALLER THAN THEY ARE USED TO,FIXED IT BY MIXING IT WITH THEIR USUAL LITTER - SORTED!