Skip to content
Skip to navigation menu
PURINA PRO PLAN Sterilised OPTIRENAL Rich in Salmon & Rice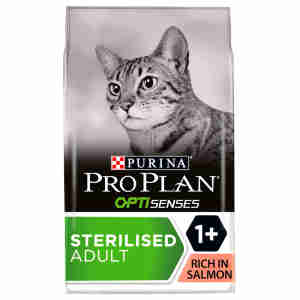 Rollover image to zoom
Product details
Neutered and sterilised cats have reduced energy needs and show an increased risk of urinary stone formation. Pro Plan After Care is specifically adapted to these needs. It helps promote a lean body mass, maintain good regulation of glucose metabolism and healthy urinary tract.

Pro Plan After Care also includes our Optirenal formula to help support your cats kidney function.

Pro Plan After Care is specifically adapted to the reduced energy needs of young adult neutered cats. Rich in salmon and rice, Pro Plan After Care is highly palatable and developed to prevent weight gain and maintain a healthy urinary tract. The association of the 2 fish protein sources is proven to reduce voluntary daily energy intake by 10%*. The shaped kibble helps protect teeth against plaque and tartar build up.

Key Benefits:
- High palatability recipe made of two fish protein sources proven to reduce voluntary daily energy intake by 10%*, promoting a lean body mass.
- High protein (41%) and insoluble fibre (5.5%) recipe to reduce the digestible carbohydrate content and help moderate the rate of glucose uptake, which can benefit overweight cats prone to glucose regulation disorders and help to reduce the risk of excess fat deposition.
- Controlled pH formula using a careful balance of essential minerals to minimise the necessary excretion of bicarbonate ions and maintain urinary health in neutered cats that are at increased risk of FLUTD.
- Helps protect teeth against plaque and tartar build up.
- With Optirenal, a specific blend of nutrients that helps support cats kidney function.

"Natural Feline Protection" supports the function of all key external and internal protective systems. Containing Vitamin A, linoleic acid and zinc for skin elasticity and hydration. Marine oils for a thick and glossy coat. High level of fish proteins, fibres and reduced levels of carbohydrates to moderate glucose load after the meal and limit cell fat storage. Controlled pH formula to maintain urinary health and reduce the risk of struvite stone formation, of which neutered cats are at increased risk. High level of quality protein and strong antioxidants to help antibody production and cell protection.

Ingredients:
Salmon (20%), maize gluten meal, rice (14%), dehydrated poultry protein, maize, dehydrated tuna meal (4%), digest, oat fibre (3.5%), cellulose (3.5%), pea protein concentrate, wheat gluten meal, dried whole egg, yeast, animal fat (protected by mixed tocopherols), potassium chloride, calcium carbonate, minerals, choline chloride, L-arginine, L-lysine, sodium chloride, DL-methionine

.




Customer reviews
Product reviews are filtered by language.
The following reviews are available in English.
Excellent Product.

My 2 boy cats had been on a hypoallergenic dry cat food for some years, due to one of them having a slightly delicate digestive system. However and after finding that it's price had recently increased beyond what I felt was reasonable, I searched extensively for a suitable alternative without wishing to cut back on quality. Having tried them on small amount of several different dry cat foods, the Purina Proplan Sterilised Optirenal was the one they took to immediately and have continued to eat most enthusiastically. Being able to purchase this at a very competitive price is an added bonus, as is the prompt delivery of further orders. Wouldn't hesitate to recommend this excellent product to other cat owners.

My 2 cats love this food

Having previously been told by our vet that one of my two 7 yr old boys had a sensitive digestion, I had been successfully keeping them on a much more expensive dry food, which has recently increased considerably in price. Not wanting to cut down on quality, but looking to find something a little less expensive I've tried them on several other dry cat foods, only to find them sniffing at it and then walking away. That was until I bought this variety of ProPlan, which they have instantly taken to and are now enjoying with relish. I've also noticed an improvement in the look and feel of their coats. So pleased to have found a quality cat food at a very competitive price - will certainly be buying this again.

Purina Pro Plan Cat

The price is always competitive. And delivery is mostly 2-3 days. Very pleased with the service.

Favourite food

This is my cat Bobbie's favourite food so try to get best deal on it ,which i have found here .. on recent visit to vet for yearly check up ,she passed with flying colours i'm sure choice of cat food has a lot to do with it

Happy Cats

I order my cats food and other things, I get free delivery and it is always at my house within a couple of days. Excellent service and if I have a query that I cannot find on the internet, I just ring and there is always someone there to help.