Skip to content
Skip to navigation menu
Pedigree Schmackos Multi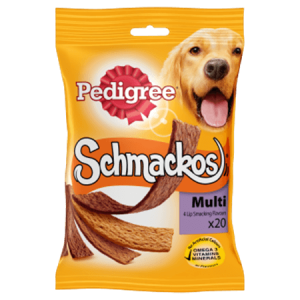 Product details
Pedigree Schmackos is made with fresh meat and contains Omega 3 to help keep him fit for life.

Key Benefits:
Omega 3 to help keep him fit for life
Calcium to help give him strong teeth & bones
Vitamins and Minerals to help maintain his natural defences

Ingredients
Meat and Animal derivatives, derivatives of vegetable origin, various sugars, minerals, yeasts, oils and fats. Contains EEC permitted antioxidants and preservatives.

Analysis %: Protein 30.0, Oil 10.0, Ash 10.0, Fibre 3.0, Moisture 17.5.
Clean HTML - AAA + Case Converter 283 Cleaning options Remove tag attributes Remove inline styles Remove classes and IDs Remove all tags Remove successive s Remove empty tags Remove tags with one Remove span tags Remove images Remove links Remove tables Replace table tags with structured
s Remove comments Encode special characters Set new lines and text indents Color Picker #BBD0E0 »
Dosage
Fresh drinking water should always be available. Feed at any time as a treat, either as complete strips or broken into bite-size pieces.