Skip to content
Skip to navigation menu
Peridale Granules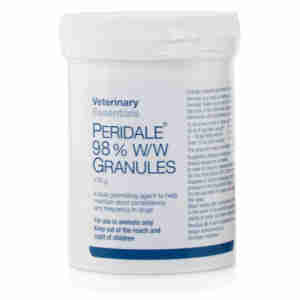 Rollover image to zoom
Product details
Peridale Granules for the control of infected anal sacs, of specific and non-specific diarrhoea, and stool consistency following surgery. Bulk promoting agent Peridale increases the bulk of the intestinal contents, promotes peristalsis and helps to ensure the easy passage of a soft stool. Sprinkled over the food or placed dry on the tongue. For dogs only.
To ensure that you read the most up to date information about this product, please check the VMD's Product Information Database.
Legal category: AVM_GSL | Product Information Database
Customer reviews
Product reviews are filtered by language.
The following reviews are available in English.
Such a help to our elderly labrador

Would highly recommend this product - our lab has bladder problems and it is hard for him to poo - this has made such a difference to him and he is comfy again.

chronically constipated elderly cat

This stuff saved my persians life literally. I had the euthanasia booked in as his struggle to poo was getting too much and at 17 years old I couldnt watch him struggle. you name it i'd tried it, home remedy's and vet prescriptions, enema, bran, katalax ,fibre prescription diet. All worked for a little while but he was struggling and it was upsetting to watch. Then I tried this, I hide it in Hills Prescription AD food which is very rich and he loves it. I still have him today and i really hope this review helps somebody as I was at the end of things to try.

Persian cat with chronic constipation

My 17 yr old Persian has chronic constipation, I have him on Fibre Diet with Katalax everyday, lactulose, adding water and pure Bran to his meals, you name it ive tried it, he ended up with a Perineal hernia from his straining and he vomits when hes really bad. His Stools are rock hard and only a small amount every other day was he managing to pass. I knew he was struggling and after a few month I booked in his euthanasia as this was affecting him quite badly and I resulted in helping him along on the litter tray by squeezing behind the lump of feces to pop it out. Just tried these granules and my word am I glad I did, stools are softer and much more frequent, no more vomiting, or going out of the litter box. He eats them mixed in his food fine!I hope this review helps someone as I had started to give up, now 3 weeks in my Beautiful Boy is still here looking much brighter, and not looking so tired and beaten down by it all, so. . . euthanasia cancelled. worth every penny.