Skip to content
Skip to navigation menu
Pet Head Feeling Flaky Dry/Sensitive Skin Shampoo For Dogs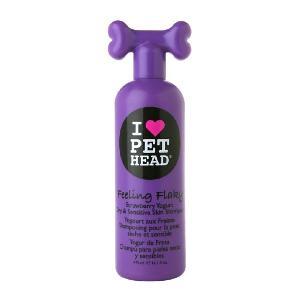 Product details
Help to combat your dog's dry and sensitive skin with Pet Head Feeling Flaky Shampoo. The combination of yucca, chamomile and silk proteins all work together in order to relieve dry and patchy skin and restore the natural healthiness of your dog's coat. The shampoo is scented with a strawberry yoghurt smell that leaves your pet smelling great too.
Key features
Recommended for dogs with sensitive skin
Shea butter and vitamins rehydrate the skin
Yucca and chamomile leave the coat looking smooth and conditioned
Strawberry yoghurt scent
Customer reviews
We're sorry but there are no reviews of this product in English.