Skip to content
Skip to navigation menu
Add to an existing Repeat Order
Add to an existing Repeat Order
Licensed item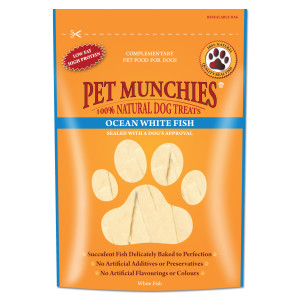 Pet Munchies Dog Treats - Fish
This is a licensed item so for regulatory reasons and to ensure we are providing the best product for the health of your pet, we need to ask you to confirm a few details.
Please confirm the type of animal you will be giving this licensed product to:
I am aware of the relevant safety precautions relating to the licensed products.
I will read the packaging and product literature before using any licensed products, and will use all licensed products according to the manufacturer's datasheet
I am not buying for resale and I am happy to be contacted if required
I confirm that the animal the licensed products will be given to is in general good health
I confirm that the animal the licensed products will be given to is NOT pregnant or lactating
Add to an existing Repeat Order
Licensed item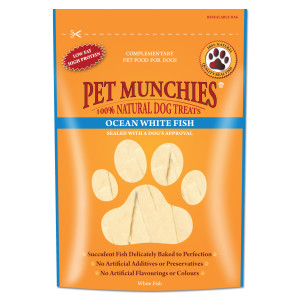 Pet Munchies Dog Treats - Fish
This is a licensed item so for regulatory reasons and to ensure we are providing the best product for the health of your pet, please read and confirm the details below:
By purchasing this product, you confirm your pet has been examined by a vet who has recommended the use of this food on the basis of examination and diagnosis.
You understand it is recommended while your pet is being fed this product, you seek veterinary advice at least every 12 months regarding the usage of this food and the on-going care of your pet.
Should your pet's condition deteriorate in any way while using this product, seek immediate veterinary advice.
Add to an existing Repeat Order
You are adding: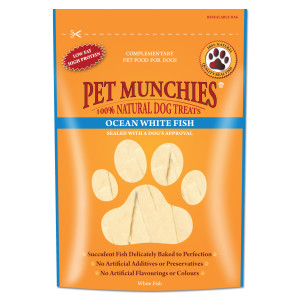 Pet Munchies Dog Treats - Fish
To the following repeat order:
Next order due on:


Delivered every
text.account.new.upcoming.orders.payment.brand.
Add to an existing Repeat Order
Thank you, we have updated your order. Your order is due on
You're setting up the following repeat order: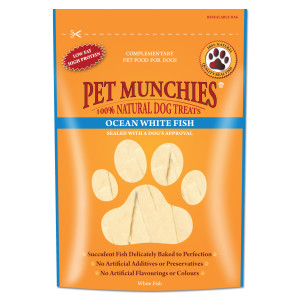 Pet Munchies Dog Treats - Fish
Product details
If your pet has a sensitive stomach, these Pet Munchies white ocean fish treats are ideal, as they won't irritate your dog's stomach.
How it works
Pet Munchies don't contain any artificial preservatives or additives, and because fish is used instead of meat, it's gentle on their digestive system too. This also means it's packed with omega-3. This healthy fatty acid helps to improve the condition of your best friend's skin and coat. It's great for their immune system.
These treats are baked, which means all the flavour's locked in, and have a chewy texture that your dog is sure to enjoy. The handy resealable packet means they're ideal for taking along on walks, especially if you're training your pooch. Using treats to reinforce behaviour is a tried and tested method.
Key benefits
suitable for all dog breeds
great for use as a training reward
contains healthy and nutritious fish protein
perfect if your dog has food intolerances
easy to digest
low in carbohydrates and fat
omega-3 boost immune system and skin health.
When to use it
Treats are extremely good at helping your dog to learn. Rewarding them with a snack when they behave or follow your instructions helps them to understand what you want them to do. Additionally, because these snacks are made with 100% natural ingredients, you can feed them to your fuzzy friend even if they have allergic reactions to other foods.
The texture also encourages chewing, and this is an effective way to prevent tartar build up in their mouth. As the snacks are low in fats and carbohydrates, they won't interfere with your pooch's diet either. You should always speak to your vet before making any changes to their foods just to be safe, however.
Customer reviews
Product reviews are filtered by language.
The following reviews are available in English.
White Fish Pet Munchies

My Lurcher has had pancreatitis and has sensitive digestion but, Pet Munchies have been perfect for him, especially the white fish, as I have found that even the crunchy fish skin products affect him adversely. I now keep a big supply of various Pet Munchies treats.

Fiddle sticks Chicken strips

The wooffer has had the chicken strips as his favourite for a long time and it doesn't look as though there will be any let up any time soon ! Best of all from our point of view is that these do not contain any preservatives or additives which in our chaps case can be a down side being a Westie, what with the breeds history for poor skin condition.

Brilliant service

Really good prices and such quick delivery. Highly recommended.

Doggie Treats

My little dog loves these Pet Munchies treats. She has a couple of the chicken sticks or beef and liver sticks, along with the chicken and calcium during the day and her special favourite is the ocean fish stick at bedtime. As she has eating issues, these low fat treats are ideal and not too expensive. She would rather eat these than food.

Treats

We have been through the range and my 2 small Maltese have the favourite of Chicken and cheese - they are soft and they do eat them quickly - 2nd & 3rd are chicken strips and chicken chips that are harder and ideal as the treat to be left with if I leave them as they take longer to chew. I would recommend you get a selection to find the favourites- highly recommend.