Skip to content
Skip to navigation menu
Pettex Pampuss 100% Natural Wood Litter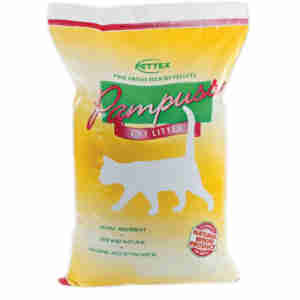 Pettex Pampuss 100% natural wood litter is an all-natural, super absorbent cat litter infused with a fresh pine fragrance.
What it's for
If you're looking for an environmentally friendly alternative to standard cat litters, then these wood-based pellets may be the way to go. Made from 100% recycled wood, this litter is completely biodegradable and can be thrown away in the garden with your compost.
The pellets are made by Pettex, using leftover sawdust. The sawdust is compressed and turned into little chunks without the use of any glue or additives, ensuring that this cat litter is 100% natural.
Highly absorbent and with a natural pine fragrance, this litter will stop your cat's litter tray from emitting any nasty and unpleasant smells. It's lightweight and non-clumping too, so it's easy to lift, carry and dispose of.
Key benefits
lightweight pellets that are easy to dispose of
highly absorbent
natural pine fragrance
100% natural materials
made from recycled wood
biodegradable materials
comes in five, 15 and 30-litre bags
low dust levels
How it works
Not only does this sustainable cat litter help reduce your carbon footprint, you're also providing your furry friend with a natural tray filler that absorbs nasty smells and all the moisture from their pee. Remove waste daily and change the litter on a regular basis. Cats tend not to like using dirty litter boxes and will find other spots to do their business if they're not happy.
As the litter is made from wood pellets there's minimum dust, which is great for people who suffer from asthma. This helps keep the area clean too, as it can't be tracked out of the box on your kitty's feet.
It's recommended that you mix this litter with your previous brand to introduce it so your cat doesn't get spooked. Over time, gradually reduce the amount of old litter until you're solely using this one.
Customer reviews
Product reviews are filtered by language.
The following reviews are available in English.
Pettex pampuss wood based cat litter

Excellent product with no dust problems as there is with some makes, I buy 5 bags of 5litre size as I can handle the weight more easily,I have bought this product plus cat food from this company many many times and delivery and service is excellent.

First Rate

Good service,quick delivery and most important the cat like's it

Great product

Great product at reasonable cost. I use it for a household of 4 cats. It doesn't smell and the bits don't get walked over the floor afterwards as other types of litter can do.

No other litter can compare.

Fantastic litter wouldn't use any other.

don't use any other litter

Don't really have much experience with any other litter but I understand this type of litter pellets is the best kind, and we've always been happy with this particular brand