Skip to content
Skip to navigation menu
Add to an existing Repeat Order
Add to an existing Repeat Order
Licensed item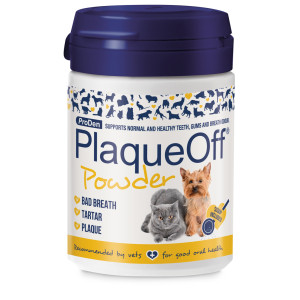 Plaque Off for Dogs and Cats
This is a licensed item so for regulatory reasons and to ensure we are providing the best product for the health of your pet, we need to ask you to confirm a few details.
Please confirm the type of animal you will be giving this licensed product to:
I am aware of the relevant safety precautions relating to the licensed products.
I will read the packaging and product literature before using any licensed products, and will use all licensed products according to the manufacturer's datasheet
I am not buying for resale and I am happy to be contacted if required
I confirm that the animal the licensed products will be given to is in general good health
I confirm that the animal the licensed products will be given to is NOT pregnant or lactating
Add to an existing Repeat Order
Licensed item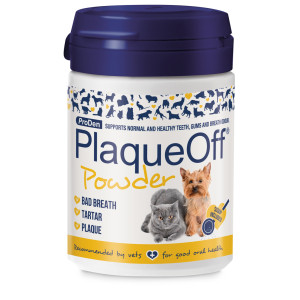 Plaque Off for Dogs and Cats
This is a licensed item so for regulatory reasons and to ensure we are providing the best product for the health of your pet, please read and confirm the details below:
By purchasing this product, you confirm your pet has been examined by a vet who has recommended the use of this food on the basis of examination and diagnosis.
You understand it is recommended while your pet is being fed this product, you seek veterinary advice at least every 12 months regarding the usage of this food and the on-going care of your pet.
Should your pet's condition deteriorate in any way while using this product, seek immediate veterinary advice.
Add to an existing Repeat Order
You are adding: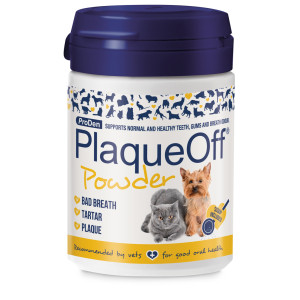 Plaque Off for Dogs and Cats
To the following repeat order:
Next order due on:


Delivered every
text.account.new.upcoming.orders.payment.brand.
Add to an existing Repeat Order
Thank you, we have updated your order. Your order is due on
You're setting up the following repeat order: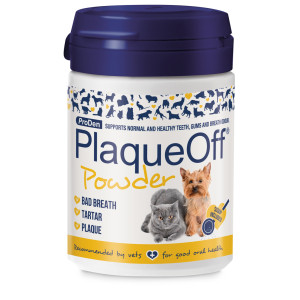 Plaque Off for Dogs and Cats
Product details
PlaqueOff is a completely natural product for cats and dogs in granulated form.
How it works
Derived from a natural vegetable substance from maritime algae, it is absorbed into the bloodstream, to help the saliva dissolve tartar and prevent new layers forming. Effective against bad breath, tartar, plaque build-up and improvement of oral health.

PlaqueOff will soften existing tartar making it easier to remove with a tooth brush, chews, biscuits or scraped off with finger nail.
The 60g pot will last up to a year for small dogs and 3 months for a medium or large dog.
Key benefits
made from all natural ingredients
comes in a granulated formula that makes it easy to add to your pet's food without them noticing – for fuss-free treatment.
When to use it
Plaque forms on teeth just hours after eating and not only causes terrible breath, but also quickly becomes a breeding ground for germs. When it mixes with the salt in your dog or cat's saliva, it hardens into tartar – becoming even harder to remove – and pushes up the gums, exposing the root of the tooth. This makes your pet's teeth very sensitive and can cause them significant pain.
Bacteria can also travel from your pet's mouth to other areas of the body through the bloodstream, causing issues in the heart, liver and kidneys. Signs that your pet is struggling with plaque build-up include bad breath, brown marks around the gums and obvious discomfort – your dog or cat may flinch if you touch their gums or they might even bleed.
Warning:
Not suitable for animals on treament for hyperthyroidism. (e.g. Felimazole)
Ingredients
The active ingredient is a specially selected alga, Ascophyllum nodosum. Plaque Off product powder is 100% natural, free from additives and artificial preservatives and contains no gluten or added sugar.
Dosage
| | |
| --- | --- |
| Weight | Recommendation |
| Small dogs and cats up to 10kg | ½ scoop daily |
| Medium dogs, 10 - 25kg | 1 scoop daily |
| Large dogs, 25kg + | 2 scoops daily |
Customer reviews
Product reviews are filtered by language.
The following reviews are available in English.
Every day

This small tub lasts ages if you only have one dog and gradually the plaque is disappearing from my spaniels teeth although I have taken to brushing his teeth once a day as there is one section which is proving hard to shift. I remember how my previous spaniel had to be anaesthetised in order to remove the plaque from her teeth and her breath was awful so I'm determined for that not to happen with my new dog.

good value for money

My 3 dogs love it they have it on their dinner every day they enjoy it

Dental care

I use this plaque off daily, brush my dogs teeth 3 times a week and use dental sticks has treat and I noticed a different straight away because of the several things I do to look after his teeth

Excellent product

This product is a godsend, saving me worrying about my dogs teeth and breath as much, and also my dog from the dreaded toothbrush! Recommended by vets and certainly does the job!

Plaque Off

Very good product, stops bad breath and helps remove plaque. We will continue to use Plaque Off.