Skip to content
Skip to navigation menu
Protexin Pro-Fibre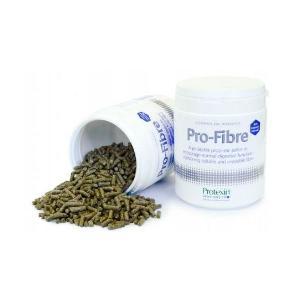 Product details
Protexin Pro-Fibre is a fibre supplement for cats and dogs.
How it works
Protexin Pro-fibre pellets contain multiple sources of fibre to aid your pet's digestion. Fibre helps your pet digest their food efficiently, so they can absorb the maximum amount of nutrients from every bite. This pellet is a palatable supplement that can be added to your cat or dog's daily food to easily give them a boost of fibre. Some pet foods lack the adequate amount of fibre to keep your four-legged friend's digestive system healthy, which can lead to nasty digestive problems.
Added prebiotics and probiotics in this supplement help good bacteria to grow in the gut. This is the key to fighting off bad bacteria that can cause stomach upset; it's essential for keeping their gut healthy.
Key benefits
a natural source of fibre for cats and dogs
prebiotics and probiotics stimulate growth of good bacteria
tasty pellets that can be added to your pet's daily food
'friendly' bacteria help fight harmful toxins.
When to use it
A lack of fibre in your pet's diet means they can't digest their food efficiently. This in turn means that they can't absorb nutrients and vitamins from their food that are vital for their health. A lack of fibre can also lead to coprophagia, which is when animals consume their own stools.
This supplement can be added to your pet's daily food to ensure they get the maximum amount of fibre in their diet. Always check with your vet if you're unsure and follow the feeding guidelines on the packet.
If you're concerned about your pet's diet, there are a few common symptoms you can look out for. Vomiting, diarrhoea and constipation are all signs that your pet is suffering from digestive issues. If you notice these symptoms, speak to your vet straight away.
Customer reviews
Product reviews are filtered by language.
The following reviews are available in English.
Vet advice

Reviewed before. Advise solved the problem. In conjunction with the food recommended and found on this site, great results.

Pro Fibre Competitively Priced and seems to do the job

My 11.5 year-old retriever was having anal gland issues. Since putting her on Protexin Pro Fibre, she seems much better. It seems to bulk out her stools a little and make them more consistent in firmness.

Protexin Pro Fibre

An excellent product at a price much lower price than my local vets. I can highly recommend this product from Pet Supermarket.

great product

really good for my cavalier king charles would highly recommend this product

Pro fibre

Good stuff, does what it says , helps my dog with her impacted anal glands,