Skip to content
Skip to navigation menu
Purina Beta Adult Working Dog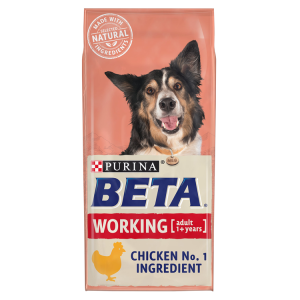 Product details
Purina Beta Adult Working Dog Food is tailored to meet the needs of dogs with jobs to do.
How it works
This tasty dry dog food is packed full of amino acids that help to take care of your pet's hard-working muscles. High levels of fat and protein give your dog a big energy boost so they can keep working hard throughout the day. This is especially important for activities such as herding and hunting, when they will need to remain active and alert for long periods of time.
Vitamins A and E have been added to nourish the coat and keep the immune system functioning well. Natural prebiotics aid smooth digestion so your dog can absorb the maximum amount of nutrients from their food. Purina's mix is also free from artificial flavours, colours and preservatives, making it less likely to irritate your pet's stomach.
Key benefits
suitable for working dogs older than one year
high-protein keeps energy levels up
designed for working and hunting dogs
antioxidants and vitamin E help maintain a healthy immune system
prebiotics promote healthy digestion
mouthwatering chicken flavour
When to use it
Both large and small dogs who have jobs to do need food that'll keep them going. Purina's unique mix is an ideal choice, and can replace your pet's regular meals for life.
If you're thinking about changing your pet's food, you should speak to your local vet first. They'll be able to tell you whether the new mix adheres to any special dietary requirements your dog might have. When you first switch your dog's food, do so gradually. Again, speak to your vet if you notice any adverse effects or behaviour.
Remember to check the feeding guidelines on the packet to make sure your pet is getting the right daily amount.