Skip to content
Skip to navigation menu
Royal Canin Canine Hypoallergenic Small Dog HDS 24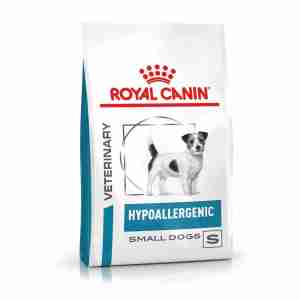 Rollover image to zoom
Product details
Adult dogs under 10kg, in cases of:
Food elimination trial
Food allergies with dermatological and/or gastrointestinal signs
Food intolerance
Inflammatory Bowel Disease (IBD)
Exocrine Pancreatic Insufficiency (EPI)
Chronic diarrhoea
Bacterial overgrowth
Soy protein hydrolysate which is composed of low molecular weight peptides, is highly digestible and of very low allergenicity.
Very high amounts of biotin, niacin and pantothenic acid, in combination with the zinc-linoleic acid complex, help reduce water losses through the skin and support the barrier effect of the skin.
Undersaturated urine is an environment where crystals cannot proliferate. Thus the urine is unfavourable to the development of struvite and calcium oxalate crystals.
Sodium polyphosphate binds salivary calcium, making it unavailble for tartar formation.
Veterinary diets are formulated for the nutritional support of dogs with specific clinical conditions and are recommended to be used under veterinary advice. For more information on feeding Hypoallergenic to your dog, please consult your veterinary surgeon.
Customer reviews
Product reviews are filtered by language.
The following reviews are available in English.
Royal canin hypoallergenic small dog

Brilliant product, my chihuahua has ulcerative colitis, since starting on this, no problem

The best food for dogs with ibs

My Chihuahua has IBS and has 27 allergies. Since starting him on this food he has been fantastic and has only about 2 flare ups per year. He seems to love the food too. It has been like a miracle.

Tasty hypoallergenic dog food

My dog has had a lot of allergies, this food is hypoallergenic so easy to digest without causing upset. Its tasty and he always eats all of it, so it doesn't go to waste.

Great results

I was recommended this food by our vet a few times and finally decided to give this a go after exhausting all options of expensive medication and other foods and I can say since using this food all my dogs allergies have disappeared. This is cheapest price for this food I can find and you can get it delivered to your door. I would highly recommend this food if your vet has suggested it as its worked wonders for my little pooch who's been on it for months now and he's been itch and rash free for months. The food is small little biscuits which is ideal for little dogs and the zip lock bag is great for keeping it sealed.

Perfect for unsettled stomachs

My 4 year old Yorkshire terrier had a very sensative tummy, every now and then his tummy would pop and fizz although was on a sensative complete mix it clearly wasn't helping.Advised by my vet to try Royal Canin Hypoallergenic small breed complete I have found its been the best thing for my wee dog! He's so much happier now he has a settled tummy !