Skip to content
Skip to navigation menu
Royal Canin Canine Pediatric Starter Small Dog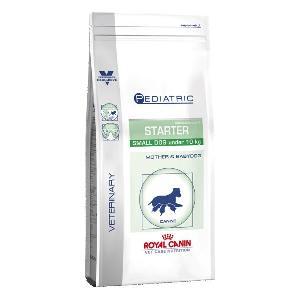 Product details

For the bitch up to 10kg in weight at the end of gestation and during lactation, and for small-breed weaning puppies up to 2 months old.

With oral sensitivity leading to a tendency toward developing periodontal disease, small breed dogs require a kibble adapted to control tartar. Often being the fussiest members of the canine population, a palatable diet is required as well as one which helps maintains optimal weight by way of a specific formulation.

The high energy density enables a reduced amount of food to be given per meal, decreases the intestinal workload and compensates for the low stomach capacity in puppies and bitches in the last 3rd of gestation.

Combination of highly digestible proteins (L.I.P proteins), prebiotics (Fructo-Oligo-Saccharides & Manno-Oligo-Saccharides (MOS), Beta-Glucans, Butyrate), sugar beet pulp, rice and fish oil to ensure maximum digestive security.

Association of Manno-Oligo-Saccharides (MOS) with a patented synergistic antioxidant complex including high contents of Vitamin E, Vitamin C, Taurine & Lutein, to support natural defences of growing dogs.

At the start of the weaning, the dry kibble should be moistened with twice it's volume in water at 60°C to form a porridge. Allow the mixture to rest and cool before feeding. The kibbles are specifically designed to facilitate this.

Betaglucans are polysaccharides, branched chain of glucose molecules (glucan) connected by beta-1,3 and beta-1,6-linkages. They may be extracted from brewers yeast, shitake mushrooms, and oats.

Betaglucans interact with the gut-associated immune system, moderating biological functions in the body, by way of stimulating anti-body producing B-cells to secrete IgA proteins into the mucus.

Ingredients:
Dehydrated poultry meat, rice, animal fats, wheat gluten, maize, beet pulp, hydrolysed animal proteins, minerals, fish oil, soya oil, Fructo-Oligo-Saccharides (FOS), fatty acid salt, hydrolysed yeast (source of Manno-Oligo-Saccharides (MOS) and Beta-Glucans), egg powder, marigold extract (source of Lutein).


Customer reviews
We're sorry but there are no reviews of this product in English.