Skip to content
Skip to navigation menu
You have setup the following Repeat Order: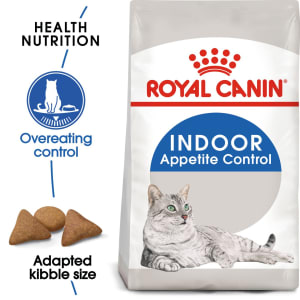 Royal Canin Health Indoor Appetite Control Adult Dry Cat Food
Royal Canin Health Indoor Appetite Control Adult Dry Cat Food
Product details
This Royal Canin Indoor Appetite Control has been specially designed to help your indoor cat stay at their healthiest weight.
How it works
By combining proteins and fibres, this food helps to keep your cat feeling fuller for longer. That means they'll be less likely to start hunting for food, or begging for snacks in between mealtimes. The additional fibre content in the food also helps to break down hair in their stomach. This can reduce the amount of hairballs.
The food also supports their digestive system, which in turn can help reduce stool odour. While supplementary nutrients within the recipe ensure they have a balanced, healthy diet.
Key benefits
mix of proteins and fibres reduces your cat's appetite between meals
helps to keep them at their ideal weight
reduces stool and litter tray odours
helps to break down and reduce hairballs in their stomach
supports the digestive system
When to use it
Indoor cats are at risk of gaining weight more quickly than outdoor pets, even if they are active and healthy. They tend not to use as much energy simply because they're inside, and this can easily lead to weight gain. If your cat seems to be getting bigger and acting more lethargic than usual, then they may have a weight problem. One way to help them stay in shape, as well as regular play, is to change their diet.
This food contains everything they need for a balanced diet, but also helps your cat to stay satisfied after mealtimes. That means they're less likely to overeat or pester you for snacks. If your cat's eating habits seem to change drastically, though, it's always a good idea to speak to your vet before taking any action or changing their diet.
Ingredients
Customer reviews
We're sorry but there are no reviews of this product in English.