Skip to content
Skip to navigation menu
Add to an existing repeat order
Add to an existing repeat order
Licensed item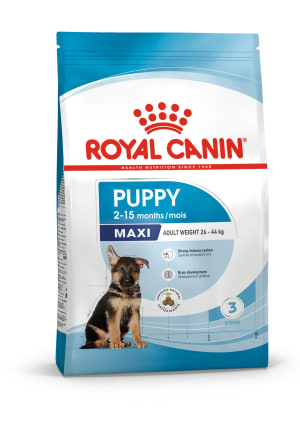 Royal Canin Maxi Puppy Dry Food
This is a licensed item so for regulatory reasons and to ensure we are providing the best product for the health of your pet, we need to ask you to confirm a few details.
Please confirm the type of animal you will be giving this licensed product to:
I am aware of the relevant safety precautions relating to the licensed products.
I will read the packaging and product literature before using any licensed products, and will use all licensed products according to the manufacturer's datasheet
I am not buying for resale and I am happy to be contacted if required
I confirm that the animal the licensed products will be given to is in general good health
I confirm that the animal the licensed products will be given to is NOT pregnant or lactating
Add to an existing repeat order
Licensed item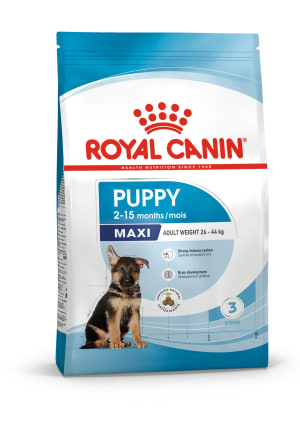 Royal Canin Maxi Puppy Dry Food
This is a licensed item so for regulatory reasons and to ensure we are providing the best product for the health of your pet, please read and confirm the details below:
By purchasing this product, you confirm your pet has been examined by a vet who has recommended the use of this food on the basis of examination and diagnosis.
You understand it is recommended while your pet is being fed this product, you seek veterinary advice at least every 12 months regarding the usage of this food and the on-going care of your pet.
Should your pet's condition deteriorate in any way while using this product, seek immediate veterinary advice.
Add to an existing repeat order
You are adding: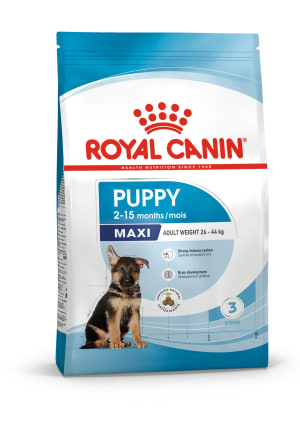 Royal Canin Maxi Puppy Dry Food
To the following repeat order:
Next order due on:


Delivered every
ending
Add to an existing repeat order
Thank you, we have updated your order. Your order is due on
You're setting up the following repeat order: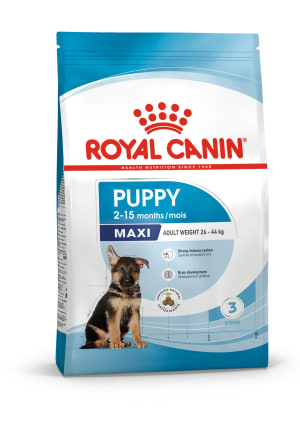 Royal Canin Maxi Puppy Dry Food
Product details
Royal Canin Maxi Puppy is a specially curated formula that has the needs of your puppy in mind. For example the specially selected ingredients such as the complex pattern of antioxidants and vitamin E helps to support your puppy's immune system at that tender age.
The recipe contains a high amount of protein which is hugely important for your puppy's digestion which also contains prebiotics like FOS which contributes to your puppy's gut health.
With larger puppies it is important that they don't have food that is too high in energy, this is because they have a longer growth period where their energy needs to be sustained. Royal Canin Maxi puppy contains proteins that contribute to a moderate energy level.
There is a range of food specially tailored for puppies with different energy levels. If your puppy is very active then try the maxi puppy active range.
Product Benefits
Immune system support
Special ingredients that contributes to digestion
Specially selected ingredients to sustain energy levels
Nutrients that maintain a good balance of intestinal flora which contributes to good stool quality
High in digestible proteins such as L.I.P
Ingredients
Feeding Guide
Customer reviews
Product reviews are filtered by language.
The following reviews are available in English.
Great food for my pup

Royal canine is the best dried food for pets in my opinion. Giving your pet the correct nutrition. I am using this for my new pup & used it for my last pet too.

I picked this food for my new puppy from a recommendation from my nutritionist teacher; after putting my pup on this she has filled out and thoroughly enjoys the taste which I am thankful for (a lot of food she just used to leave and she was quite skinny when I bought her). With her being a German Shepherd x Samoyed I needed her to eat more to help her coat to develop and for her to physically thrive which she has done thanks to this food. I will definitely be sticking to this feed if I buy another pup.

I have an 8 month old GSP who has been on Royal Canin since 8wks old. She is absolutely thriving on it. Her coat is glossy and she's fit and very healthy. It is expensive but you need only feed the recommended quantities safe in the knowledge that she is getting a balanced, healthy diet. But the best thing about it is that she loves her food and always finishes it, in fact when the bags arrive from Pet Supermarket she gets really excited. Definately worth the money guys!

I started to worry about my GSD pup, she did'nt put any weight on so thin her ribs protruded a friend reccomended Royal Canin specially made for GSD's put her on it some months ago, bought from you,when I opened the bag it smelt so good she does'nt have a big apertite but she has now filled out and looks superb, her coat is so glossy people comment on it. She is more alert and attentive, I think this is important as it makes it easier to train her.This has to be down to the ingredients it is made from.

Our Labrador puppy loves this food, and seems to be thriving on it! The food smells good and is quite oily, which keeps him looking really healthy with a beautiful shiny coat. We feel confident that we are giving our dog great quality nutrition with a food which provides him with everything he needs for healthy growth.