Skip to content
Skip to navigation menu
Royal Canin Persian Dry Adult Cat Food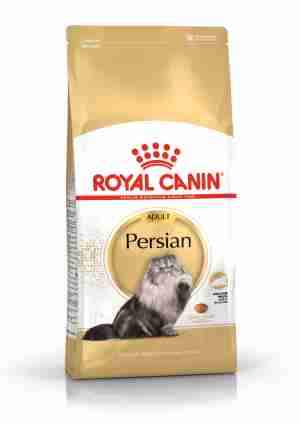 Rollover image to zoom
Product details
AWAITING REPLENISHMENT. ALTERNATIVES CLICK HERE
Royal Canin Persian is specially formulated to maintain the digestive health of your Persian cat. Persians are known to be particularly vulnerable to digestive illnesses. This food helps to improve your cat's digestion by promoting the balance of intestinal flora – the microbes that live in your cat's gut and help them digest their food.
Like all long-haired cats, Persians are especially prone to fur balls. Royal Canin Persian uses a specific combination of fibres to stimulate your cat's intestines' natural perastalytic movements. This prevents fur ball development by helping your pet's fur to pass easily through their digestive system.
Being high in EPA and DHA (omega-3) fatty acids, Royal Canin Persian is the ideal food to help maintain circulation and cardiac health.
Royal Canin Persian is an almond-shaped kibble, designed to make it easier for Persian cats to grasp with their tongue. Persian cats have characteristic prognathic – a condition where the lower jaw is longer than the upper jaw. This can mean that they find ordinary cat food difficult to chew. The almond-shaped kibble helps to overcome this, making it a far easier food to eat.
Key features:
formulated to help Persian cats' vulnerable digestive systems
helps prevent fur balls with a fibre combination that stimulates your cat's digestion
unique, almond-shaped kibble specially designed for Persians.
When to use it
Persians have been found to be genetically susceptible to many forms of digestive illnesses and their long hair means that they often develop fur balls. Using Royal Canin Persian as their regular food will help to reduce the uncomfortable symptoms of poor digestion and reduce the likelihood of them developing fur balls.
Ingredients
Feeding Guide
Customer reviews
Product reviews are filtered by language.
The following reviews are available in English.
Great service but a shame about the waste

I do love the service and products but have made my problem clear on the phone. Either use correct sized packaging boxes or cut them down its quite easy to do. Do not send out loads of waste paper to fill boxes it is very wasteful and bad for the environment. Would also save the company money.

"Nothing else will do" says my feline family

I've been feeding my Persians and those who think they are Persians this cat food for over 15 years. They actually won't eat anything else, not even human food. Cats know best...they get all they need from this. They have all been healthy with very little health bills, except for annual check ups.

Great Service - best price

very happy with the service i received, the best before date was over a year away and the price for delivery to NI was unbeatable.

Royal Canin Persian

Rescued 2 persians and tried everything to get the female to eat , we had to hand feed her cat treats as she refused all food. Bought the RC Persian along with a few other types , she absolutely loved it as soon as she saw it in her bowl, she is now a happy , healthy cat .

Royal Canin Persian

I regularly send for Royal Canin Persian cat food, I have 6 cats of various breeds and they all eat this and do well, 4 of them are long haired. The food is good and the service from MedicAnimal is excellent. Thank you