Skip to content
Skip to navigation menu
Royal Canin VHN Canine Urinary S/O Small Dog Under 10 Kg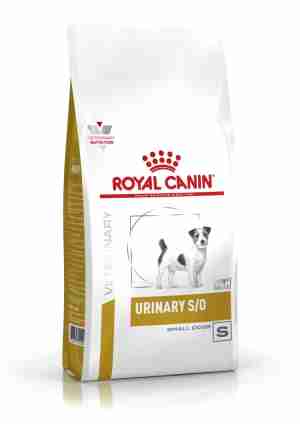 Rollover image to zoom
Product details
AWAITING REPLENISHMENT. ALTERNATIVES CLICK HERE
Urinary S/O Small Dog is for the nutritional support of dogs in cases of:
Bacterial cystitis
Dissolution of struvite uroliths
Reduction of recurrent struvite and calcium oxalate urolithiasis
In older dogs renal function should be checked before Urinary S/O Small dog is recommended.
Urinary S/O Small Dog Benefits:
Urinary S/O Canine effectively dissolves struvite uroliths. An acidic urinary pH is unfavourable to the development of bacteria, which are frequently associated with struvite uroliths.
Diluting urine decreases the urinary concentration of struvites and calcium oxalates. The larger urinary volume also ensures regular bladder wash-out.
Undersaturated urine is an environment where crystals cannot proliferate. Thus the urine is unfavourable to the development of both struvite and calcium oxalate crystals.
Sodium polyphosphate binds salivary calcium, making it unavailable for tatar formation.
Urinary S/O small Dog Not recommended in cases of:
Pregnancy, lactation, growth
Chronic renal failure, metabolic acidosis
Pancreatitis or history of pancreatitis
Heart failure
Hyperlipidaemia
Use of urine-acidifying drugs

Veterinary diets are formulated for the nutritional support of cats with specific clinical conditions and are recommended to be used under veterinary advice. For more information on feeding Urinary Small Dog to your dog, please consult your veterinary surgeon.
Customer reviews
Product reviews are filtered by language.
The following reviews are available in English.
THE DOG LOVES THEM!

Our Bichon Frise recently had to have surgery to remove a large kidney stone. The vet advised us to changer her diet to Royal Canin Urinary S/O Small Dog pellets. Changeover in diet has been seamless doing it over a few weeks - week 1 75% old pellets Royal Canin Adult Small Dog & 25% new pellets, week 2 50% of each, week 3 25% old pellets & 75% new then finally week 4 100% new pellets. Dog has cleared her dish every meal. No change to toilet habits!

Excellent Product - Excellent Service by Pet Supermarket

Pet Supermarket has never let us down, and we have been ordering from it for years.

Great service

Absolutely amazing service. So fast and reliable.

Brilliant

My dog had alot of bladder issues and nearly lost her life. After her op her problems continued we got recommended this food and she has been on it for nearly a year now and we haven't had 1 vet trip (apart from her vaccinations in my eyes this food is saving her life amazing x

Royal Canin Canine Urinary S/O Small Dog Under 10 Kg

Molly has been on this since she had crystals in her bladder and since being on the food she has stayed clear. She also loves the larger dried urinary product as treats. I would recommend the product to anyone who also has same problem with their dog