Skip to content
Skip to navigation menu
You have setup the following Repeat Order: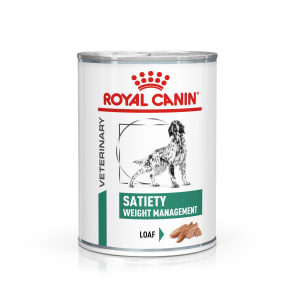 Royal Canin Veterinary Diet Satiety Weight Management Adult Wet Dog Food
Royal Canin Veterinary Diet Satiety Weight Management Adult Wet Dog Food
Product details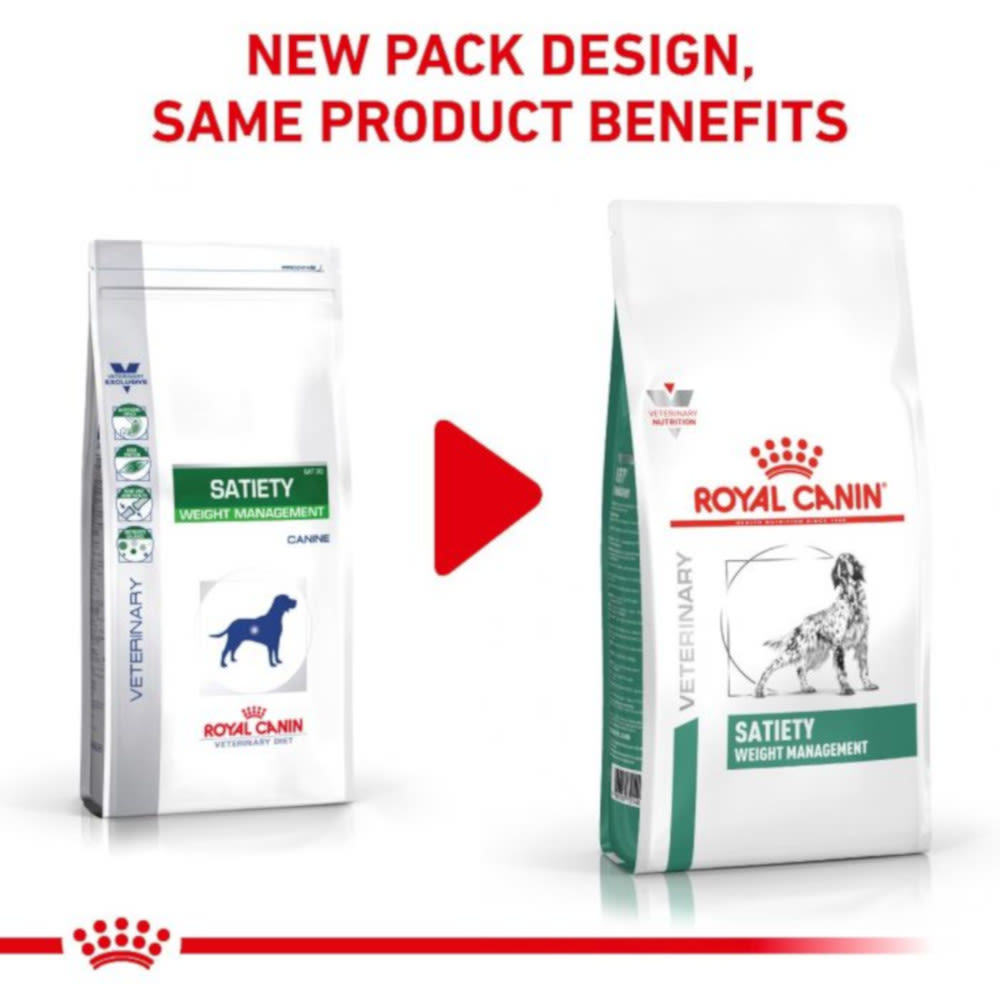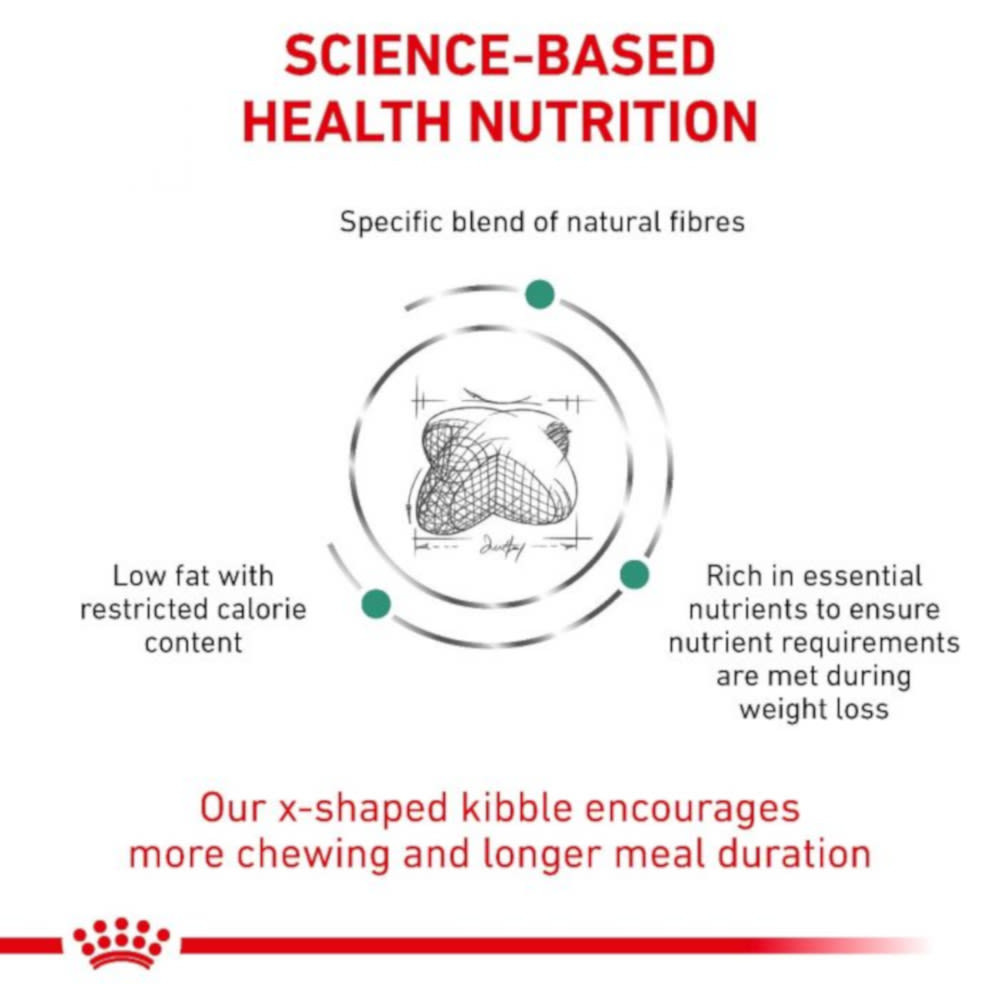 Royal Canin Canine Satiety Support is a low calorie food that keeps dogs feeling full for longer.
How it works
Developed by Royal Canin's team of vets and nutritionists, this dog food is specially formulated for pets who need to lose weight. The food is high in fibre to keep your dog feeling satisfied and full for a longer time after eating. This reduces the chance of them overeating and therefore putting on weight. The food also contains ingredients that can help maintain joint and bone health as, due to their size, overweight dogs are more likely to develop problems in these areas.
The calorie content is low, so your dog should lose weight even if they aren't exercising often. To combat the low calorie content the food is enriched with extra vitamins and minerals so that your dog will have all the nutrition they need to be healthy, active and happy. Finally, the recipe is high in protein: this helps satisfy hunger and also helps your dog to keep their lean muscle during the weight-loss regime.
Key benefits
low calorie content encourages weight loss
high fibre content keeps hunger at bay
high protein content maintains lean muscle mass
added ingredients protect joint and bone health
enriched with vitamins and minerals
nutritionally complete and intended to be your dog's only food source.
When to use it
Obesity in dogs can lead to other health problems including diabetes, joint and bone pain and a shorter lifespan. Your vet can do a proper analysis and tell you if your dog is overweight, but a quick test you can do at home is looking at them from above: they should have a clearly defined waist. Their ribs generally should not be visible (that's often a sign of them being underweight) but you should normally be able to feel them when you stroke your dog's sides gently. If you can't, it could be a sign that your pet needs to go on a diet.
While the most common causes of weight gain is eating too much and exercising too little, it can also be a side-effect of more serious problems such as Cushing's disease, pancreatic cancer and hyperthyroidism. It's important to visit your vet to rule these out.
In addition to putting them on a stricter diet, you can also help your dog to lose weight by encouraging them to exercise more: for example, by taking a ball out on walks and getting them to run after it.
Because veterinary diets are formulated for the nutritional support of pets with specific clinical conditions, we recommend that you only use them under professional advice. For more information on feeding Royal Canin Canine Satiety Support to your dog, please consult your veterinary surgeon.
Ingredients
Dry food
Composition:
Vegetable fibres, dehydrated poultry protein, wheat gluten*, tapioca, maize gluten, hydrolysed animal proteins, wheat, maize, animal fats, beet pulp, fish oil, minerals, psyllium husks and seeds, soya oil, fructo-oligo-saccharides, glucosamine, marigold extract (source of lutein), hydrolysed cartilage (source of chondroitin).

Nutritional additives (per kg):
Vitamin A: 19000 IU, Vitamin D3: 1000 IU, Iron (3b103): 35 mg, Iodine (3b201, 3b202): 3.5 mg, Copper (3b405, 3b406): 11 mg, Manganese (3b502, 3b504): 46 mg, Zinc (3b603, 3b605, 3b606): 137 mg, Selenium (3b801, 3b811, 3b812): 0.06 mg - Preservatives - Antioxidants.

Analytical constituents:
Protein: 30% - Fat content: 9.5% - Crude ash: 5.7% - Crude fibres: 16.5% - Metabolisable energy: 2866 kcal/kg (NRC85). *L.I.P.: protein selected for its very high assimilation.
Wet food
Composition:
Meat and animal derivatives, cereals, derivatives of vegetable origin, minerals, oils and fats, molluscs and crustaceans.
Nutritional additives (per kg):
Vitamin D3: 140 IU, E1 (Iron): 5 mg, E2 (Iodine): 0.2 mg, E4 (Copper): 1.9 mg, E5 (Manganese): 1.7 mg, E6 (Zinc): 17 mg.
Analytical constituents:
Protein: 8.5% - Fat content: 2% - Crude ash: 1.5% - Crude fibres: 2% - Moisture: 83% - Metabolisable energy: 602 kcal/kg.
Feeding Guide
Feeding guide:
Dry Food
Target Adult Weight (kg)
Lean
Normal
Overweight
g
g
g
2
42
34
65
4
70
57
108
6
94
77
145
8
115
94
178
10
136
111
210
12
155
127
240
14
174
142
268
16
191
157
296
18
209
171
322
20
225
184
348
25
265
217
410
30
303
248
468
35
339
277
524
40
374
306
578
45
407
333
629
50
440
360
680
60
502
411
777
70
562
460
869
80
620
507
958
90
676
553
1044
195g Can
Target Adult Weight (kg)
Lean
Normal
Overweight
(g / day)
Can/ day
(g / day)
Can / day
(g / day)
Can / day
2
196
1
168
3/4
184
1
3
265
1 1/4
227
1 1/4
250
1 1/4
4
329
1 3/4
282
1 1/2
310
1 1/2
5
389
2
333
1 3/4
367
2
6
446
2 1/4
382
2
420
2 1/4
7
500
2 1/2
429
2 1/4
472
2 1/2
8
553
2 3/4
474
2 1/2
522
2 3/4
9
604
3
518
2 3/4
570
3
10
654
3 1/4
560
2 3/4
617
3 1/4
410g Can
Target Adult Weight (kg)
Start
After 4 weeks if the dog did not lose weight
Maintenance
(g / day)
Can/ day
(g / day)
Can / day
(g / day)
Can / day
10
654
1 1/2
560
1 1/4
617
1 1/2
12
750
1 3/4
643
1 1/2
707
1 3/4
14
842
2
721
1 3/4
793
2
16
930
2 1/4
797
2
877
2 1/4
18
1 016
2 1/2
871
2
958
2 1/4
20
1 100
2 3/4
943
2 1/4
1 037
2 1/2
25
1 300
3 1/4
1 114
2 3/4
1 226
3
30
1 491
3 3/4
1 278
3
1 405
3 1/2
35
1 673
4
1 434
3 1/2
1 578
3 3/4
40
1 849
4 1/2
1 585
3 3/4
1 744
4 1/4
195g Can - Mix Feeding Satiety Weight Management Dry Dog
Target Adult Weight (kg)
Start
After 4 weeks if the dog did not lose weight
Maintenance
Can +
(g) Dry
(g) Dry
(g) Dry
2
1/2
22
16
19
3
1/2
37
29
34
4
1
30
19
26
5
1
43
31
38
6
1
56
42
50
7
1
68
52
62
8
1
80
62
73
9
1
92
72
84
10
1
103
82
94
195g Can - Mix Fedding Satiety Small Dog Dry
Target Adult Weight (kg)
Start
After 4 weeks if the dog did not lose weight
Maintenance
Can +
(g) Dry
(g) Dry
(g) Dry
2
1/2
22
16
20
3
1/2
38
29
34
4
1
30
20
26
5
1
44
31
39
6
1
57
42
51
7
1
69
53
62
8
1
81
63
74
9
1
92
73
85
10
1
104
82
95
410g Can - Mix Feeding Satiety Weight Management Dry Dog
Target Adult Weight (kg)
Start
After 4 weeks if the dog did not lose weight
Maintenance
Can +
(g) Dry
(g) Dry
(g) Dry
10
1
55
34
46
12
1
76
52
66
14
1
97
70
86
16
1
116
87
104
18
1
136
103
123
20
1
154
119
140
25
1
199
158
182
30
1
242
194
223
35
1
282
229
261
40
1
322
263
298