Skip to content
Skip to navigation menu
You have setup the following Repeat Order: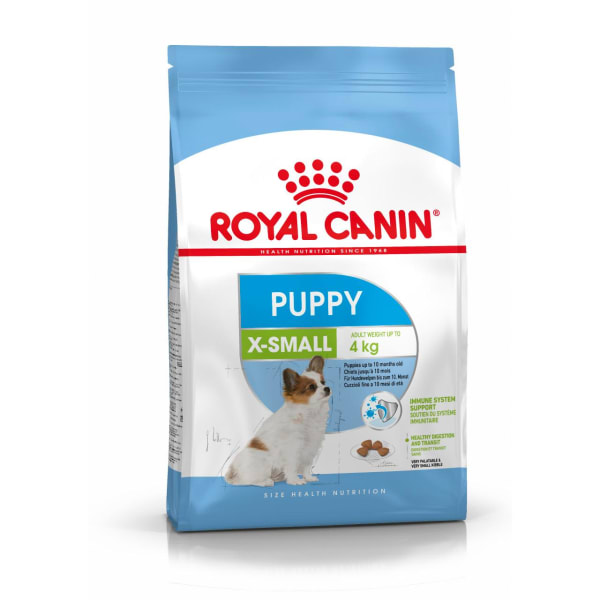 Royal Canin X-Small Puppy Dry Food
Royal Canin X-Small Puppy Dry Food
Royal Canin X-Small Puppy Dry Food
Back in stock notification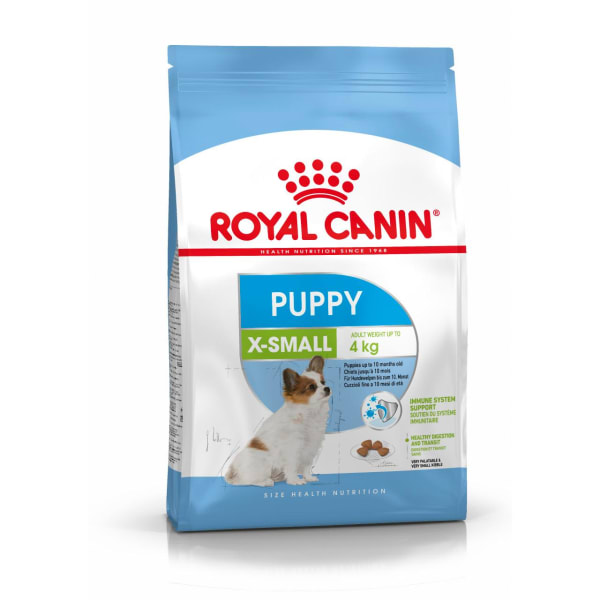 Royal Canin X-Small Puppy Dry Food
Royal Canin X-Small Puppy Dry Food
Enter your name and email address below then select which items you would like to be notified of when available.
Product details
Small dogs typ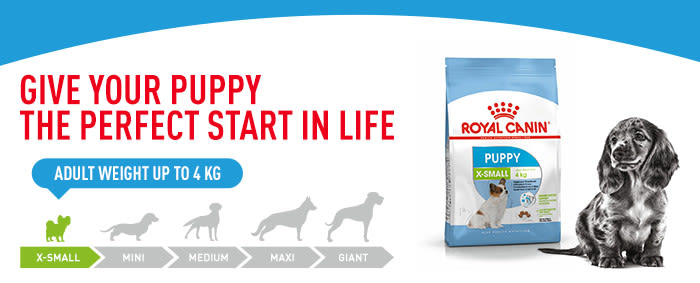 DID YOU KNOW THAT YOUR X-SMALL BREED PUPPY MULTIPLIES HIS BIRTH WEIGHT BY 20 TIMES IN 8-10 MONTHS?

A Puppy is a growing dog: the composition, texture and size of their food, must therefore be adapted to the puppy's age. Diet during the growth period plays a key role in a puppy's future morphology and health.
ROYAL CANIN Puppy X-Small made for small dogs with adult weight up to 4kg. Up to 10 months old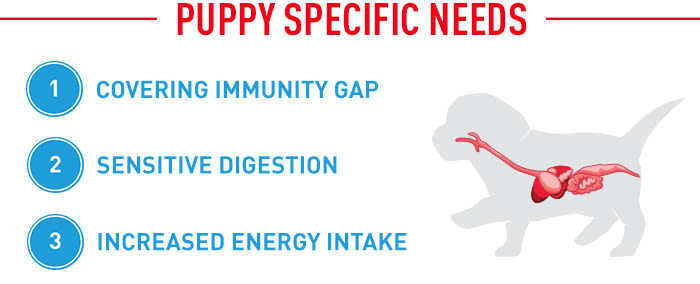 • During growth period the immune system needs suport
• Digestive system is immature it needs special combination of nutrients
• Due to the intense metabolic activity, a puppy require 2x more energy than an adult dog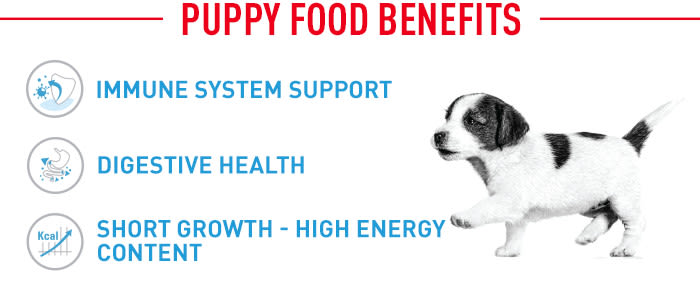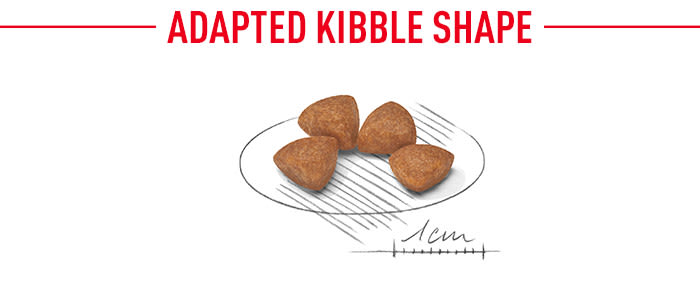 `
ADAPTED KIBBLE SIZE – EASY TO CHEW:
Jaw size also depends on the dog's adult size. A medium breed sized kibble can generate chewing issue for small breed dogs and waste issues for giant breed dogs.

SUITABLE FOR HIGH ENERGY NEEDS:
Meets the energy needs of small breed puppies during the growth period,
and satisfies fussy appetites.

HIGHLY DIGESTIBLE COMPOSITION:
Combination of nutrients with high quality protein (L.I.P.*) and prebiotics (FOS).

IMMUNE SYSTEM SUPPORT:
Royal Canin Mini Puppy helps support your puppy's natural defences thanks
to a patented complex of antioxidants including vitamin E.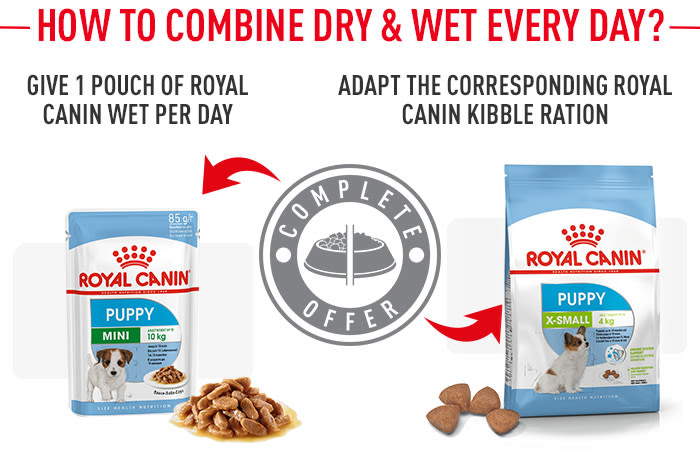 Very palatable textures to facilitate the transition from mother's milk to solid food.

Kibbles benefits: Concentration of nutrients, and a texture providing
a brushing effect on the teeth with positive outcomes on oral health.

Wet Food benefits: Naturally moister which helps reduce the risk of urinary problems and maintains healthy weight.

ically live longer than larger dogs, but they also reach adulthood sooner. This means your small puppy needs the right energy content to help support its immune system. With Royal Canin they have developed a recipe that allows your puppy to grow gradually.

This specially formulated recipe helps to facilitate good stool quality, with a balanced intake of fibres. The recipe is designed to meet the energy needs of very small breed puppies throughout the early growth years.

The selected complex of antioxidants including vitamin E helps support your puppy's young immune system and natural defences. As well as beet pulp and psyllium husks as fibres to support intestinal health, digestion and transit.

All Royal Canin's products undergo an extensive quality control process in order to guarantee the optimum quality of food as well as catering to your dog's specific dietary requirements and lifestyle.

Product Benefits
Suitable for puppies of extra small breeds aged 2 - 10 months old
Includes vitamin E to help support their natural defence system and maintain healthy skin
Smaller kibble size specially created for smaller mouths
Great for fussy dogs due to tasty recipe
Puppy contains poultry, rice maize and vegetable protein for a high provision of energy
Ingredients
Feeding Guide
Customer reviews
Product reviews are filtered by language.
The following reviews are available in English.
Puppies love it

I bought this for new pup and she loved it also ideal to use as treats for training

Fabby for my dogs

I always feed my six dogs with this and they love it and they're coats are so healthy Very happy with the service from yourselves.

Ideal for little mouths

Our puppy eats all her food she loves it

x small junior

eatI got this for my pregnant maltese as she was refusing her usual dry food,breeder recommended it,she loves it but now my other maltese and yorkie eat it so it will work out quite expensive,I can't seem to buy it in larger bags

Royal Canin for small puppies

I tried sooo many kibble types for my two Papillon pups and was at my wits end when a friend suggested RC. My boys LOVE it. I think it is because it's small and they can chew it easier than the big kibble I have tried, (Bob and Lush, Science Diet and more). I leave this down all the time and they eat what they want when they want. Super stuff.