Skip to content
Skip to navigation menu
Seraquin for Dogs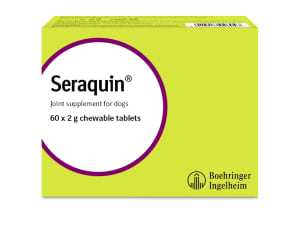 Product details
Seraquin is a chewable tablet that provides support of joint function in dogs and cats.
This palatable tablet has a unique combination of quality ingredients that help maintain normal joint mobility.

Seraquin contains Glucosamine HCl, Chondroitin sulfate and Turmeric extract, which are vital building blocks in the formation of cartilage and occur naturally in the body, and is recommended for the support of normal joint function in cats and dogs.

Seraquin is recommended by many vets for use on its own, or in tanderm with prescription arthritis treatment where necessary. However, as Seraquin is designed to support the joint and build up the cartildage around the joint , you may not see effects for 4 to 6 weeks.


Directions:
1 Tablet per day per 10kg of body weight
Less than 10kg - Use Seraquin for Cats & Small Dogs instead

After the initial feeding period, the daily amount can normally be gradually reduced by ½ a tablet for the following week. This can be repeated on a weekly basis until a level of half the initial amount is reached.

For more information on Seraquin, please visit the Seraquin website.
Customer reviews
Product reviews are filtered by language.
The following reviews are available in English.
Seraquin for dogs 2g tablet

I have been using these seraquin tablets for my 13 year old Labrador for years, they keep her mobile and she is much better. I give her 2 tablets with food everyday in the morning. I have tried a lot of other brands, but these are the best for her as she suffers with a sensitive stomach. She loves to crunch them up with her food or on their own.

Seraquin for dogs

Our dog is almost 11 years and is a medium sized labrador/spaniel cross. She was a rescue dog who came to us at age 4. Jess was diagnosed with moderate arthritis in her front leg joints 5 years ago, when she was 6 years old and it might have been from an earlier injury. She was in some pain. The vet recommended Seraquin and she has taken it since then. She has moderate daily exercise and we control her diet so that she is not overweight. The combination of these 3 has so far kept her without pain and mobile. It is an excellent product.

my dogs limp as gone

seraquin is a great product my dogs limp as gone. I have been using it for 12 months and it Duse the job well.

Seraquin

Great value for money

Seraquin

The product is very beneficial for my dog's health issue. However, I have not received the product after more than five weeks waiting and so far Petmeds have not responded to my email to them.