Skip to content
Skip to navigation menu
Serene-UM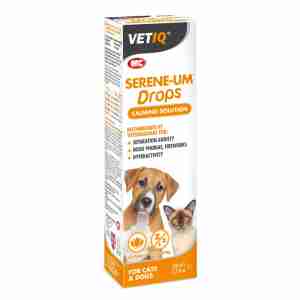 Rollover image to zoom
Product details
Serene-UM is a natural dietary supplement that contains ingredients that help stabilise and maintain brain and central nervous system health, and can naturally help with stress in your dog.
It is formulated for dogs who show signs of behaviour related disorders, excessive barking, tail chasing, poor concentration, pacing, unruliness and nervousness. Serene-UM may help to relax your pet without sedating it.
Key Benefits:
May naturally calm and de-stress your dog.
Inisotol: Supports the transmission of neural signals in the brain.
Vitamin B3: Helps release energy from foods and also supports brain/nerve cell maintenance.
Taurine: May help to stabilise and maintain brain/nervous system health.
L-Tryptophan: Useful for regulation of mood, appetite and sleep.
Calcium: Helps to support bone structure maintenance and muscle contraction.
Zinc: Helps to support bone formation, cell-mediated immunity and host defence.
Vitamin E: Helps with stability of muscular activity and in the regulation of cellular oxidation processes.
Selenium: Provides anti-oxidant support
Vitamin D3: Helps to support regulation of calcium and phosphorous homeostasis and bone mineralisation.
Also available as 100ml solution
Ingredients
Ingredients: Inositol, Vitamin B3, Taurine, L-Tryptophan, Calcium, Vitamin B6, Zinc, Vitamin E, Selenium, Vitamin D3
Customer reviews
Product reviews are filtered by language.
The following reviews are available in English.
Relaxed!

Our dog did not have a huge problem but ever since we moved she seemed always on edge and a bit hyper, despite 3 hour daily walks and agility training. Serene-Um was advised by a friend and since it 100% natural we decided to give it a try. Same dog, but without the hyperactive edge. Great!!!!!!! She also has no problem with the tablets, we added it to the morning treat ritual and it's always gone in a second.

My Great Dane has become increasingly afraid of fireworks as she gets older,and Serene-UM has really helped her.I would highly recommend this product.