Skip to content
Skip to navigation menu
You have setup the following Repeat Order: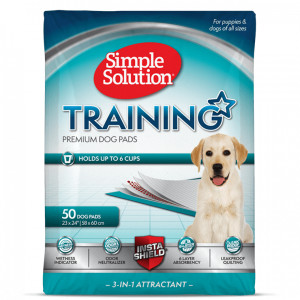 Simple Solution Puppy Training Pads
Product details
Simple Solution puppy training pads keep liquids and odours locked in and contain pheromones to encourage dogs to use them.
How it works
These ultra-absorbent pads keep your floor clean, dry and hygienic during toilet training. They have a plastic sheet on the bottom and multiple layers inside to trap urine. Nasty smells are locked in and neutralised, keeping your home smelling fresh.
To use the pads, place them plastic side down in a spot where you're happy for your pet to relieve themselves.
Each pad contains pheromones that encourage your puppy to use them as a toilet, though your new addition might still need some extra encouragement. Take them to the pad and let them familiarise themselves with the smell. Keep steering them towards it regularly, until they're ready to go. Dogs often need to relieve themselves around 10 minutes after a meal, so carry them over after they finish eating.
Give them some extra encouragement by feeding them a treat and giving them praise after they use the pad. When pads are wet they turn blue, so you'll know when to swap for a fresh one.
Key benefits
multiple layers keep liquids and smells locked in
absorbs twice as much as standard Simple Solution pads
unpleasant odours are neutralised by hygienic layers
can be used by all dog breeds
used pads turn blue so you can easily see when they need replaced
contains pheromones to entice pet to pad
When to use it
Have you recently welcomed a new puppy into your family? Simple Solutions pads make it easier to teach them where to go to the toilet. Once your pet is used to relieving themselves on the pads, slowly move them towards the door – and eventually outside.
These pads can also be used by adult dogs in emergency situations, if they're unwell and can't make it outside, or if they live in a multi-storey block.
Customer reviews
Product reviews are filtered by language.
The following reviews are available in English.
Tried three or more, these are the best so far.

These pads worked really well for us while we were toilet training our Pug puppy. They were especially useful at night. Our puppy was definitely attracted to the pads and would always go on the pad rather than on the floor! He is fully potty trained now so they have served their purpose.