Skip to content
Skip to navigation menu
Skinners Field & Trial Hypoallergenic Duck & Rice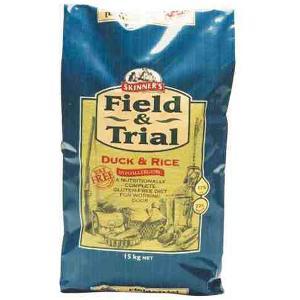 Product details
Skinners Field & Trial Our foods are made in the UK at our mill in Suffolk. The Skinner's mill has been a traditional part of the Suffolk landscape since 1688. The Mill has belonged to the Skinner family for seven generations, but it was the idea of the current Chairman, Roger Skinner, to branch into complete dry dog foods in the early 1970's – a time when there were very few competitors in this sector of the market. The manufacture of complete dry dog foods was a natural progression from animal feed compounding, and with an excellent reputation already well established the move proved extremely successful. Following a change in the VAT status on working dog foods, Skinner's launched their Field & Trial range in the early 1990's. Originally just two foods: Crunchy & Muesli, the range now comprises eight specifically formulated diets, including the recent addition of the two very popular hypoallergenic foods: Duck & Rice and Salmon & Rice. Whilst Skinner's past and present is firmly connected to the working gundog sector, we are proud to supply our foods to a wide range of customers, including several police forces, husky racing teams and many show dog, obedience and agility dog customers. Skinners Field & Trial Hypoallergenic Duck & Rice Field & Trial Duck & Rice is completely hypoallergenic as it has been specifically formulated to exclude ingredients that are known to cause sensitivities or allergies.  It is free from wheat gluten, maize gluten, barley gluten, soya and dairy products. Made from the wholesome goodness of duck, rice, and naked oats, Field & Trial Duck & Rice also contains all the essential vitamins, minerals and carbohydrates needed for health, vitality and sustained stamina. As a valuable source of energy and to maintain healthy coat condition, Field & Trial Duck & Rice is also coated in natural sunflower oil. Field & Trial Duck & Rice also contains enhanced levels of Glucosamine and Chondroitin to help protect the joints of your dog.
Customer reviews
Product reviews are filtered by language.
The following reviews are available in English.
Allergies

My 7 yr old lab girl has Atopy to house mites but other things can trigger a flare up so I keep everything as sensitive as possible. Also feed my 2yr old same stuff to cut down on different bags of food. Both girls love it, their coats and poops! are great.

Okay

It has made our dogs coats very dull and lacklustre. Sorry Skinners but, I will be going back to our old tried and trusted dry dog food

Skinners Hypoallergenic Duck and Rice

Good food at a cheaper price than my previous brand. My springer loves it and so does the cat when he can steal some!

Skinners Hypoallergenic Duck & Rice

Good value when bought with loyalty discount to apply, otherwise slightly more than I pay locally

Skinner hypoallergenic duck & rice

I've had 3 boxer dogs who have all had sensitive tummies but my present is the most sensitive. We rescued him 7 years ago and he had lots of problems but since feeding him skinners he has been 100% better