Skip to content
Skip to navigation menu
Skinners Field & Trial Lamb & Rice Hypoallergenic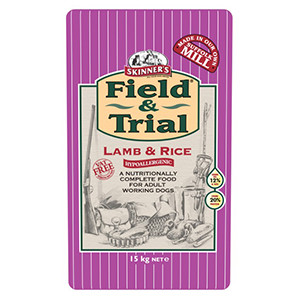 Product details
Working dogs with a sensitive stomach need plenty of nutrition, and this Skinners field trial lamb and rice hypoallergenic provides just that.
How it works
This food contains a blend of herbs and spices that helps your pet's digestion, including peppermint, fennel, and seaweed. Because rice is one of the main sources of fibre, and lamb is used instead of other protein sources, the food is very gentle on your dog's stomach.
Common causes of food allergies, such as dairy, beef, gluten, and wheat, are not used in this mix either. Additionally, it's a great choice of your best friend works with you – sheep dogs or guide dogs need lots of energy after all. Glucosamine is also included in the recipe, to help protect and strengthen joints.
Key benefits
ideal for working dogs
natural herbs and spices to soothe an upset stomach
balanced vitamins and minerals
hypoallergenic
easy to digest
added glucosamine for healthy joints
suitable for all breeds.
When to use it
You'll be able to tell fairly easily if your pooch has a food allergy. If they vomit after eating, experience excessive flatulence, or frequently get itchy, dry skin, they could have a sensitive stomach. Speak to your vet if you see any of these signs to make sure.
Proteins are often the cause of food allergies, along with certain ingredients like wheat, gluten, and even soya in some cases. Allergic reactions happen because your trusty pal's digestive system can't effectively break down certain proteins. This causes their immune system to attack, leading to skin irritation, vomiting, and so on.
The sources of protein and fibre in Skinners field trial lamb and rice hypoallergenic have been carefully chosen, and are very easy to digest, while still providing a great source of nutrition.
Ingredients
Brown rice (40%), lamb meat meal (25%), barley, chicken fat, whole linseed, lucerne, vitamins, minerals and trace elements, culinary herb mix.
Additives: Nutritional additives per kg: Vitamin A 13,000 iu, Vitamin D3 2,000 iu, Vitamin E (as alpha-tocopherol acetate) 310 iu. Trace Elements per kg: Iron (as ferrous sulphate monohydrate) 40mg, Iodine (as calcium iodate anhydrous) 1.5mg, Copper (as cupric sulphate pentahydrate) 5mg, Manganese (as manganous oxide) 25mg, Zinc (as zinc oxide) 100mg (as zinc chelate of amino acids hydrate) 30mg, Selenium (as sodium selenite) 0.1mg. Contains tocopherol rich extracts of natural origin (Vitamin E) as EC permitted antioxidant.
No artificial additives, flavourings or preservatives