Skip to content
Skip to navigation menu
Skinner's Field & Trial Maintenance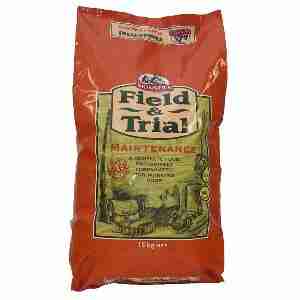 Field & Trial Maintenance contains easy-to-digest chicken, providing the correct level of protein for the maintenance of strong muscles, teeth and bones.

Specially formulated to meet the needs of working dogs undertaking light work or during the close season. High levels of essential fats and oils help to maintain a healthy, glossy coat and ensure that your dog's skin is also kept in great condition.

A mixed blend of cereals provides a good source of carbohydrate. A full balance of 27 vitamins and minerals promotes general good health.

Ingredients:
Whole wheat, maize, poultry meat meal, barley, chicken fat, beet pulp, vitamins and minerals.

Free from artificial additives, flavourings and preservatives.



Customer reviews
Product reviews are filtered by language.
The following reviews are available in English.
Healthy Retriever

My Golden is very happy on this food and I think her sustains her well. Not easy for an always hungry Dog!. She has loads of energy, her coat is beautiful and her poos are the right consistency. I would recommend this Food.

Skinners Field & Trial Maintenance

Our black lab loves his Skinners. In the past we had been only too willing to be taken in by the marketing hype from the multinational products from Mars, Nestle etc. Always wanting to do our best for Angus. It was suggested that a lower protein food would be more appropriate for him so we discovered the Field and Trial product, that was a year ago and we have never regretted the change. His general health, coat etc is as good as ever and he is now enjoying product from a 100% UK supplier - another plus. Great product, great value - thoroughly recommended.

Skinners field and trial maintenance

We adopted Darby, a border collie, from our daughter-in-law's family. Darby was a little overweight due to insufficient exercise. He now gets plenty of play in our large garden and walks in the nearby fields. He loves the Skinners Field and Trial Maintenance food, he's much leaner and more agile than when we first brought him home.

Roy

I have a five year old border collie called Morley who has always , shall we say, been boisterous . It came to a head when some six months ago he accidentally caught my wife's friend with his teeth whilst dishing out the usual welcoming of people into our home. Something had to be done to control him better. We got in touch with a specialist dog trainer, called Barbara Sykes. We asked if we could have some training for our dog from her. She agreed to this and asked a few questions about him. The main one being what food he was on, we told her it was Quantum Chicken an Rice. She told us to get him off it as it was far to high in protein for a border collie, in effect we were putting rocket power into Morley. She informed us that we must find a food with no more than 18% protein content. That is when we found the Skinners Field and Maintenance Since he has been on it he has been calmer, don't get me wrong still runs around like crazy on a beach or large field but don't all collies.

Quality food

Great value for an excellent quality food which my dogs love.