Skip to content
Skip to navigation menu
Specific Canine CDD-HY Allergy Mangement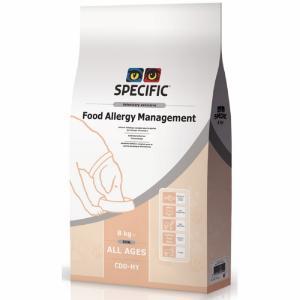 Product details
Recommendation
Adverse food reactions (food allergy and/or foodintolerance) resulting in dermatological and/or gastrointestinal disorders.
Food elimination trial.
Gastro-intestinal problems such as diarrhoea,vomiting and flatulence caused by malabsorption and maldigestion, EPI and acutegastroenteritis.
Inflammatory bowel disease (IBD).
Hydrolysed salmon protein with a molecular weight <10.000 Dalton has a highdigestibility and a low allergenicity.
Rice has a low allergenicity and a high digestibility which makes it a perfect ingredientin hypoallergenic diets. Rice does not contain gluten which will preventsymptoms of gluten allergy/intolerance in dogs.
Very high quality and highlydigestible ingredients make the dietespecially useful for patients with small intestinal diarrhoea.
Psyllium Husk is a gel-forming soluble fibre, which absorbs several timesits weight in liquid, and is known for its beneficial effect on the regulationof the gastrointestinal tract activity.
A complete, balanced diet with recommended nutrient levels tomeet the nutrient requirement of growing and adult dogs. The diet is thereforealso suitable for puppies.
Ingredients/Nutrition
Rice, hydrolysed salmon protein, rice protein,pork fat, minerals, vitamins and trace elementspowdered cellulose, Plantagopsyllium husk, sunflower oil.
Antioxidants: EC approved additives: BHA.
It contains no artificial colours or flavourings.
Customer reviews
Product reviews are filtered by language.
The following reviews are available in English.
CDD HY

This dog food really helps my dog keep the food in his system and not lose it soon after his meal!! And, he loves it.