Skip to content
Skip to navigation menu
Specific Canine CKD & CKW Heart & Kidney Support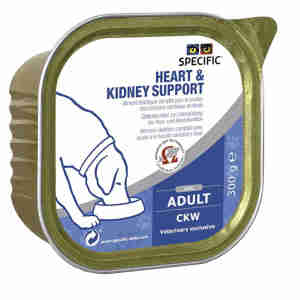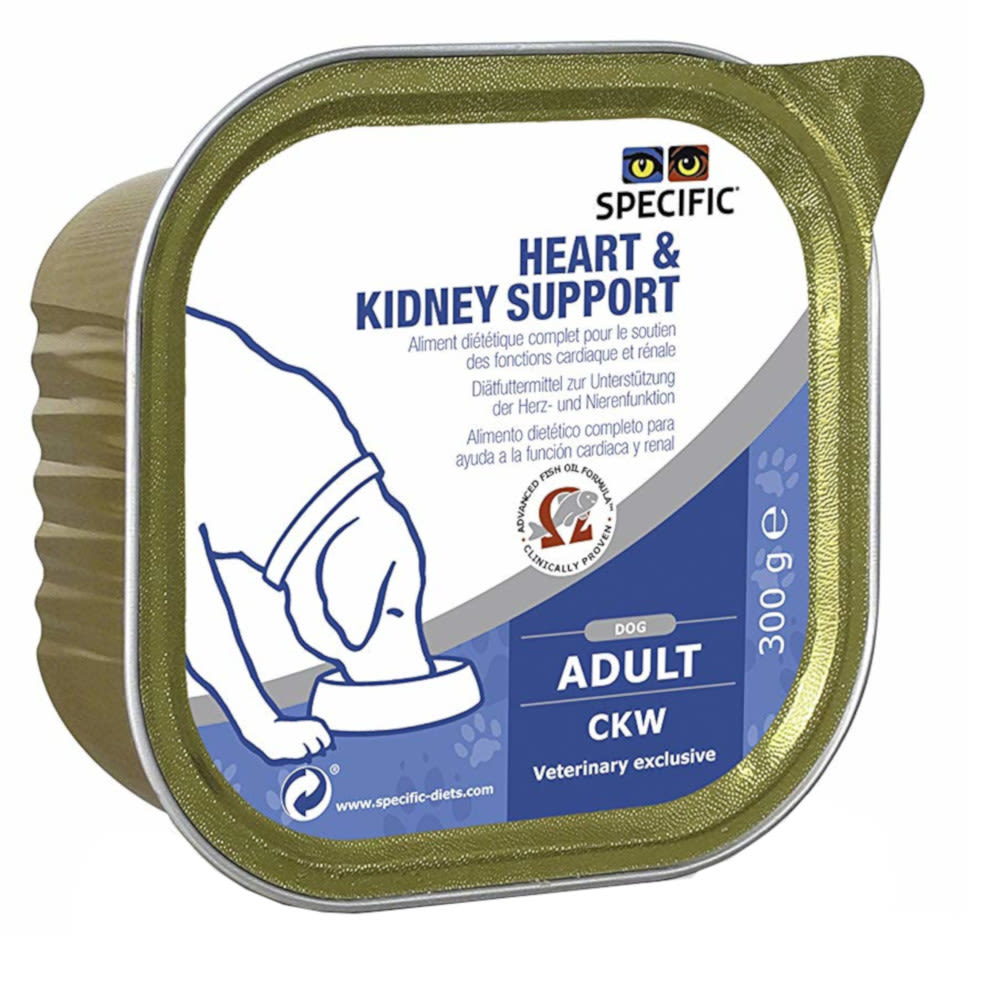 Product details

The Specific diets from Dechra are developed in close collaboration with veterinarians, vet nurses and experts in animal nutrition. They are divided into two main categories - Lifestage Diets for healthy cats and dogs, and Therapeutic Diets for the management of Clinical Conditions.

Specific Kidney Support for dogs is an ideal diet for all stages of chronic renal failure.

Key Benefits:
Slow down the progression of renal failure and enhance survival rates due to a restricted phosphorus content, which prevents increased levels of phosphorus in the blood. Blood levels of phosphorus which are too high would cause further damage to the kidneys
Reduce the workload of the kidneys because the protein content is restricted. A restricted protein level means that less waste is generated which needs to be excreted by the kidney. Lower levels of waste in the blood also reduce the pet's feeling of nausea and vomiting, which can often be prevented
Ensure that your pet receives enough essential amino acids through the use of proteins of high quality
Combat hypertension due to a reduced sodium content.
Slow down the progression of renal failure thanks to increased levels of omega-3 fatty acids
Prevent deficiency of water soluble vitamins as the levels of these vitamins are increased
Prevent loss of bodyweight and anorexia due to the excellent palatability

The protein content in Specific Kidney Support is restricted in order to reduce the production of protein metabolites and thereby minimise azotemia in dogs with renal failure. By providing protein of high biological value, the amino acid requirements of the patient are met despite the restricted protein content.The phosphorus content of Specific Kidney Support is reduced in order to prevent hyperphosphataemia and the progression of renal insufficiency. The dietary level of n-3 fatty acids is increased (especially in the Specific Kidney Support wet diet) to slow down the progression of renal failure in kidney patients.The exceptional palatability of Specific Kidney Support maximises the chances of the nutritional requirements being met, even if the pet has a poor appetite. EPA and DHA are both omega-3 fatty acids which help slow down the progression of kidney failure in kidney patients. In dogs with cardiac disease EPA counteracts cachexia and reduces hypertension and platelet aggregation.

The reduced content of protein in combination with protein of high biological value and an alkaline pH reduces azotemia in dogs with renal failure. In dogs with liver failure it reduces the likelihood of hyperammonaemia and possible hepatic encephalopathy. The high biological value of the proteins supplies a sufficient amount of essential amino acids to the dog.

In congestive heart failure, sodium excretion is reduced as part of the compensatory response to the reduced cardiac output and consequently sodium and water retention occurs. The reduced sodium level helps to break the vicious circle of water retention (hypertention and oedema). This is essential for both kidney, liver and heart patients.

The restricted protein level reduces the urinary concentrations of oxalate, cystine and urate. Together with the alkaline urine pH, this prevents precipitation of urinary calcium oxalate, cystine and urate crystals. Also the content of potassium citrate reduces the risk of calcium oxalate precipitation.

Ingredients:
Cereals, Oils and fats, Fish and fish derivatives, Vegetable protein extract, Hydrolysed chicken protein, Egg and egg derivative,s Minerals, Milk and milk derivatives, Powdered cellulose


Feeding Guide
| Weight in kg | Thin | Normal | Overweight |
| --- | --- | --- | --- |
| 2.5 | 55 | 45 | 40 |
| 5 | 95 | 80 | 65 |
| 10 | 160 | 135 | 105 |
| 15 | 220 | 180 | 145 |
| 20 | 270 | 225 | 180 |
| 25 | 320 | 265 | 215 |
| 30 | 365 | 305 | 245 |
| 35 | 415 | 345 | 275 |
| 40 | 455 | 380 | 305 |
| 50 | 540 | 450 | 360 |
| 60 | 620 | 515 | 410 |
| 70 | 695 | 580 | 465 |
| 80 | 765 | 640 | 510 |
The daily requirement may vary depending on factors such as breed, environment, season and activity level. We recommend that you monitor your pet and adjust the feeding amount to fit their individual needs.
Customer reviews
Product reviews are filtered by language.
The following reviews are available in English.
Very pleased with the service and the product.

I have a 14.5 year old large dog who has to be the fussiest dog in the whole wide world, sadly he suffers from renal failure and many renal foods are very bland and Merlin will not even look at them, but he absolutely loves the Specific, he actually goes straight to his bowl and eats it, he almost finishes all but needs a bit of encouragement to empty his bowl in its entirety. I have had nearly a year of force feeding him, I am so glad I found his food, I actually bought it by accident, a very lucky accidt

Really works

This product is fantastic. My old boy of 15 years has been diagnosed with kidney problems and this is the special diet food we were advised to use. Certainly helps to reduce the weeing problem a lot.