Skip to content
Skip to navigation menu
Specific Canine COD Omega Plus Support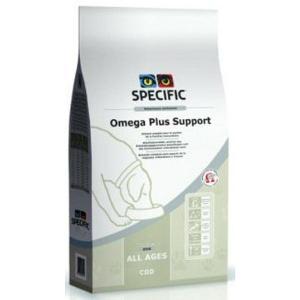 Product details
Recommendation
Allergic dermatitis caused by atopy or fleaallergy
Recovery, post-surgery, cachexia (related to e.g.cancer or heart failure) and anorexia
Cancer
Heart failure (without concurrent kidney failure)
Skin and coat problems responsive to increasedintake of skin-related nutrients as polyunsaturated fatty acids, vitamins andminerals
Immune-related disorders and inflammatoryconditions, responsive to high intake of n-3 fatty acids, such as e.g. asthma,colitis
Anorexia
Cachexia
Convalescence
Hypertension
Recovery
Stress
Surgery
Underweight
Daily diet for healthy dogs
Unique high levels ofomega-3 fatty acids EPA and DHA, from fish oil and the omega-6 fatty acid GLA,from borage oil. These fatty acids can affect the immune response and processes in thebody by altered eicosanoid production. Through production of less-inflammatoryeicosanoids, EPA, DHA and GLA can dampen hyper responsive inflammatoryreactions. In dogs with atopic dermatitis, EPA, DHA and GLA can dampen theinflammatory response in the skin, making SPECIFIC™ CΩD Omega Plus Support anoptimal diet for dogs with atopy. Altered eicosanoid production can alsosupport other immune related and inflammatory conditions like asthma andcolitis.
SPECIFIC™ CΩD Omega Plus Support contains beta-glucans, and increased levels of zinc, selenium, arginine and n-3 fatty acids to support the immune status.Beta-glucans can bind to macrophages and alert the immune system, resulting inan enhanced anti-microbialactivity and cellular defence and ananti-inflammatory response.
The high energy density, high concentration ofessential nutrients, high digestibility and excellent palatability support recovery from disease,surgery, injuries or periods of debility. The unique high level of n-3 fatty acids counteractscachexia related to e.g. canceror cardiac disease. Theincreased level of immune-supporting nutrients enhances the immune status forincreased resistance towards infections.
L-carnitine and taurine are added to the dietto support the heart muscle function. In combination with the moderate level of sodium tohelp to reduce water retention and hypertension and the high level of omega-3 fatty acids to help to counteract cachexia and toimprove arrhythmia, the diet provides nutritional support for dogs with reducedheart function.
The skin has an active metabolism and high demandfor skin-related nutrients. The increased levels of polyunsaturated fattyacids, total fat, vitamin B complex, vitamin A, vitaminE, protein, zinc andselenium support a healthy skin and coat.
Ingredients/Nutrition
Wheat, rice, eggs, fish meal, fish oil,potatoprotein, minerals, arginine, animal fat, maizeprotein, hydrolysed porkprotein, powderedcellulose, borage oil, vitamins and traceelements, Plantagopsyllium husk, yeast (sourceof ß-1,3/1,6-glucans), taurine,L-carnitine,sunflower oil. Antioxidants: EC approvedadditives: BHA, BHT,ascorbyl palmitate andpropyl gallate. It contains no artificial coloursorflavourings.
Not recommended for
Immuno-deficient dogs.
Dogs with coagulation abnormalities.
Dogs with hyperlipidaemia.
Customer reviews
Product reviews are filtered by language.
The following reviews are available in English.
Specific omega support c o d

Species omega support c o d