Skip to content
Skip to navigation menu
Specific Canine CRD-2 Weight Control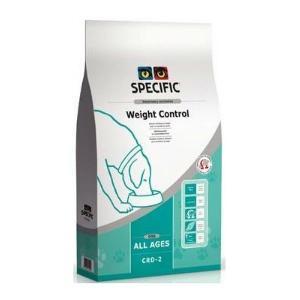 Product details
Recommendation
Weight control and prevention of obesity.
Diabetes mellitus.
Colitis, chronic diarrhoea, constipation.
Hyperlipidaemia.
The low content of fat and high content of fibre result in a low energy density. Evenduring a period of weight reduction and/or weight control this will enable theowner to feed a considerable amount of food, ensuring that the dog's appetitehas been sated.
L-carnitine transports fattyacids into the mitochondria and stimulates oxidation of fat and preservation ofmuscles.
Omega-3 fatty acids help to maintainnormal mobility in joints of overweight dogs. Omega-3 fatty acids also supporta healthy skin and coat.
The moderately increased protein content ensures maintenance ofmuscles.
The content of complex carbohydrates and the highlevel of fibre promote a gradual release of glucosefrom the diet, which makes it suitable for patients with diabetes mellitus.
Ingredients/Nutrition
Wheat, fish meal, powdered cellulose, hydrolysedpork protein, eggs, rice, beet pulp, maize protein, minerals, animal fat,potato protein, Plantago psyllium husk, vitamins and trace elements,methionine, L-carnitine, sunflower oil.
Antioxidants: EC approved additives: BHA, BHT,propyl gallate.
It contains no artificial colours or flavourings.
Not recommended for
Puppies and pregnant or lactating bitches.
Customer reviews
We're sorry but there are no reviews of this product in English.