Skip to content
Skip to navigation menu
Specific Feline FCD-L Crystal Prevention Light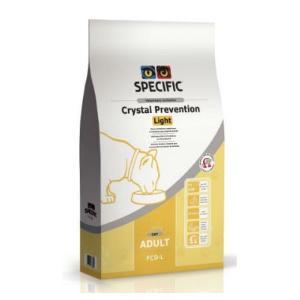 Product details
Low urinary RSS values: The RSS values(Relative Super Saturation) are low for both struvite and calcium oxalate - forundersaturation and low metastable saturation respectively - to minimise therisk of new struvite and calcium oxalate crystals forming in the urine.
Prevention of struviterecurrence: The diet has a reduced content of magnesium and phosphorus (componentsof struvite crystals) for prevention of recurrence of struvite crystals andstones.
Urine pH control: A urine pH below 6.4dissolves existing struvite crystals and prevents precipitation of new struvitecrystals.
Moderate energy,balanced nutrients:A complete, balanced diet with high quality andhighly digestible ingredients that meet the nutrient requirement of adult cats.The diet has a moderate energy content which helps maintain the cat's idealbody weight.
Skin, coat and jointsupport: EPA and DHA are both omega-3 fatty acids with a beneficial effect on themaintenance of healthy skin and coat as well as healthy joints.
Recommendation:
Prevention of recurrence of struvite urolithiasisin cats that are overweight or have a tendency to put on weight. Prevention offormation of new struvite and calcium oxalate crystals.
Reduction of feline lower urinary tract disease(including idiopathic cystitis and urethral plugs)
Not Recommended for:
Simultaneous administration of urinary acidifiers.
Kittens younger than 6 months or pregnant orlactating cats.
Metabolic or renal acidosis.
Ingredients:
Maize, potato protein, wheat, maize protein,rice, fish meal, powdered cellulose, eggs, animal fat, minerals, hydrolysedchicken and turkey protein, vitamins and trace elements, methionine, plantagopsyllium husk, taurine, beet pulp, Yucca extract, sunflower oil. Antioxidants:EC approved additives: BHA, BHT, propyl gallate. It contains no synthetic dyesand flavouring
Customer reviews
Product reviews are filtered by language.
The following reviews are available in English.
Specifically good

my cat thrives on this, he suffered FUS for over 10 years and was on Hills veterinary diet for struvite control but since switching to Specific has not had a single Urinary problem for 3 years. My vet suggested the change primarily as a weight management aid but the fact that it has helped so much with FUS as well is wonderful. This product has improved my cat's well-being and quality of life. I would definitely recommend for weight management and struvite control.

Excellent product. My cat loves it and it keeps him healthy. He used to be at the vet's a couple of times a year to have his bladder washed out, but not any more, it saves him the stress and me euros. He is a 'rescued' cat, now in his 13th or 14th year.

Highly recommended. My cat has been on this food for several years now. He loves it, I love it, it has saved us many vet bills and kept him healthy into his 13th year.

Fantastic, this has given me a long term solution to my cat's medical problems, and he's lost weight within 3 weeks of starting the new diet, even though he was on a low-cal diet before. Many neutered Toms suffer from this crystals in the bladder problem, with a narrow urethra they can become block