Skip to content
Skip to navigation menu
Specific Feline FDD-HY Food Allergy Management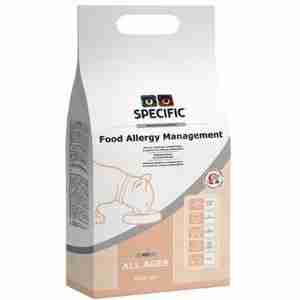 Product details
Hydrolysed salmon protein: Hydrolysed salmonprotein with a molecular weight < 10.000 Dalton has a high digestibility anda low allergenicity.
Rice (Gluten free): Rice has a lowallergenicity and a high digestibility which makes it a perfect ingredient inhypoallergenic diets. Rice does not contain gluten which will prevent symptomsof gluten allergy/intolerance in cats.
High digestibility: Very high quality andhighly digestible ingredients make the diet especially useful for patients withsmall intestinal diarrhoea.
Urinary crystal & stone protection: A urine pH below 6.4prevents precipitation of struvite crystals.
All ages: A complete, balanceddiet with recommended nutrient levels to meet the nutrient requirement ofgrowing and adult cats. The diet is therefore also suitable for kittens.
Recommendation:
Adverse food reactions (food allergy and/or foodintolerance) resulting in dermatological and/or gastrointestinal disorders.
Food elimination trial.
Gastro-intestinal problems such as diarrhoea,vomiting and flatulence caused by malabsorption and maldigestion, EPI and acutegastroenteritis.
Inflammatory bowel disease (IBD).
Ingredients:
Rice, hydrolysed salmon protein, rice protein,pork fat, minerals, powdered cellulose, vitamins and trace elements, plantagopsyllium husk, sunflower oil. Antioxidants: EC approved additives: BHA, BHT. Itcontains no synthetic dyes or flavouring.
Customer reviews
Product reviews are filtered by language.
The following reviews are available in English.
SPECIFIC Feline Food Allergy Management

Very good product. Good price. Recommended on Vets advise. Order process straight forward, which is always good, and delivered very quickly. Thank you.