Skip to content
Skip to navigation menu
Specific Feline FDW Allergy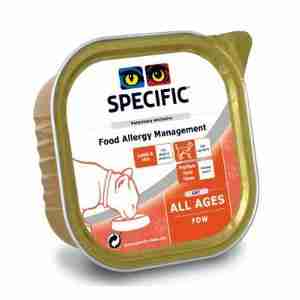 Product details

The Specific diets from Dechra are developed in close collaboration with veterinarians, vet nurses and experts in animal nutrition. They are divided into two main categories - Lifestage Diets for healthy cats and dogs, and Therapeutic Diets for the management of Clinical Conditions.

Specific Food Allergy Management is a nutritionally complete, balanced hypoallergenic diet which contains a restricted number of ingredients. The clinical signs of food allergy or intolerance (mainly dermatological and gastro-intestinal problems) can be avoided by providing a diet which does not contain the allergen concerned.

By using only a limited number of ingredients (rice and lamb) to which the animal has never or only rarely been exposed, the probability of hypersensitivity occurring following administration of Specific Food Allergy Management is minimized.In order to prevent symptoms of adverse food reactions, it is essential that no foodstuffs other than the hypoallergenic diet are fed.

Key Benefits:
Highly digestible ingredients to facilitate full digestion of the food
A reduced fibre level to increase the digestibility
Limited number of ingredients (rice and lamb)

Lamb is a protein source with high biological value, and has a generally low allergenicity, which makes lamb perfect for a hypoallergenic diet.

Very high quality and highly digestible ingredients make the diet especially useful for cats with small intestinal diarrhoea.

Psyllium Husk is a gel-forming soluble fibre, which absorbs several times its weight in liquid, and is known for its beneficial effect on the regulation of the gastrointestinal tract activity.

Ingredients:
Meat and animal derivatives, Cereals, Oils and fat, Minerals, Plantago psyllium husk


Customer reviews
Product reviews are filtered by language.
The following reviews are available in English.
Food Allergy management

My cat was just diagnosed with IBS 6mths ago & the specific food allergy management has been great on his tummy, smells good & cat loves it & has been doing well on it. Recommend it.