Skip to content
Skip to navigation menu
Specific Feline FGD Senior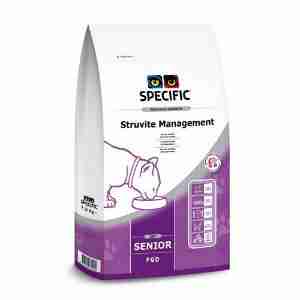 Product details

The Specific diets from Dechra are developed in close collaboration with veterinarians, vet nurses and experts in animal nutrition. They are divided into two main categories - Lifestage Diets for healthy cats and dogs, and Therapeutic Diets for the management of Clinical Conditions.

Specific Senior is the optimal diet to meet the needs of elderly cats.

Key Benefits:
Great taste and easy to feed even to sick cats. This prevents emaciation and anorexia and maintains optimal bodyweight.
Optimal level of fibres for gastrointestinal health
Formulated for control of bladder stones and crystals
Reduced level of phosphorus and a restricted, high quality protein level to keep the kidneys healthy
Contains increased levels of taurine to help maintain normal heart function and retinal structure
High contents of omega 3 fatty acids derived from fish oil to promote healthy skin and coat and maintain the renal function
Contains extract from the Yucca plant to reduce the smell of stool in the litter tray

The controlled content of protein, and the moderately reduced content phosphorus and sodium reduces the workload of the kidneys and the likelihood of progression of renal dysfunction in senior cats. The high biological value of the proteins supplies the cat with sufficient amount of essential amino acids.

EPA and DHA are both omega-3 fatty acids with a beneficial effect on the development of healthy skin and coat. The moderately reduced level of protein and sodium, the increased level of potassium citrate and the pH around 6.6 prevents the formation of calcium oxalate. The RSS-value for struvite and calcium oxalate is

The increased level of fibre promotes the excretion of ingested hairs through the faeces and reduces the formation of hairballs.

Ingredients:
Cereals, Vegetable protein extract, Oils and fat,s Fish and fish derivative,s Derivatives of vegetable origin, Egg and egg derivatives, Minerals, Yeast


Customer reviews
Product reviews are filtered by language.
The following reviews are available in English.
Does what it says on the pack. My cat has never looked so healthy since I started her on this food. I was just looking for something different as she had decided she didn't like the food the vet suggested, but she loves this, so I'm glad I found it.