Skip to content
Skip to navigation menu
Specific Feline FOD-HY Food Allergy Management Plus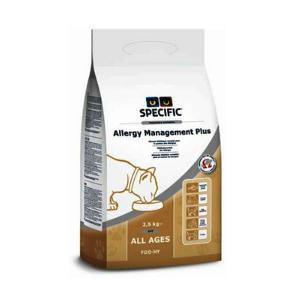 Product details
Hydrolysed salmon protein: Hydrolysed salmonprotein with a molecular weight < 10.000 Dalton has a high digestibility anda low allergenicity.
Immune support: Unique high levels ofthe omega-3 fatty acids, EPA and DHA, from fish oil and the omega-6 fatty acid,GLA, from borage oil. These fatty acids can affect the immune response byaltering the eicosanoids production. Through the production ofless-inflammatory eicosanoids, EPA, DHA and GLA dampen the hyper responsiveinflammatory response in the skin. The diet is optimal for cats with atopy.
High digestibility: Very high quality andhighly digestible ingredients make the diet especially useful for patients withsmall intestinal diarrhoea.
Urinary crystal & stone protection: A urine pH below 6.4prevents precipitation of struvite crystals.
All ages: A complete, balanceddiet with recommended nutrient levels to meet the nutrient requirement ofgrowing and adult cats. The diet is therefore also suitable for kittens.
Recommendation:
Allergic skin diseases, caused by atopy, foodallergy, flea allergy or any combination of these allergies.
Gastro-intestinal disorders caused by food allergyor intolerance.
Inflammatory bowel disease, colitis.
Gastro-intestinal problems as diarrhoea, vomitingand flatulence cause by malabsorption and maldigestion, EPI and acutegastroenteritis.
Other fatty acid and nutrient-responsivedermatoses.
Other fatty acid responsive inflammatoryconditions such as colitis, asthma or arthritis.
Not Recommended for:
Immuno-deficient cats.
Cats with coagulation abnormalities.
Ingredients:
Rice, hydrolysed salmon protein, rice protein,fish oil, minerals, powdered cellulose, pork fat, vitamins and trace elements,plantago psyllium husk, borage oil, sunflower oil. With antioxidants: ECapproved additives: BHA (butylhydroxyanisole), BHT (butylhydroxytoluene),ascorbyl palmitate, propyl gallate. It contains no synthetic dyes or flavouring.
Customer reviews
Product reviews are filtered by language.
The following reviews are available in English.
Specific Feline FOD-HY Alergy Management Plus Cat Food

Excellent value for an allergic cat.No Wastage.Free delivery