Skip to content
Skip to navigation menu
Specific Feline FOD Omega Plus Support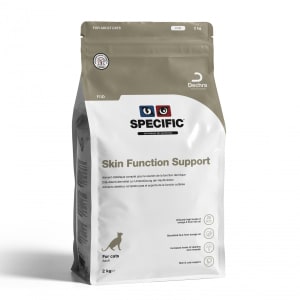 Product details
Previously called "Skin & Joint Support"
Immune & joint support: Unique high levels ofomega-3 fatty acids, EPA and DHA, from fish oil. These fatty acids can affectthe immune response by altered eicosanoid production. Through the production ofless-inflammatory eicosanoids, dietary EPA and DHA can dampen the hyperresponsive inflammatory response in the skin, which makes it the optimal dietfor cats with atopy. EPA is also effective in the reduction of inflammation andcollagen degradation in the joints of cats with arthritis.
Joint & immune support: Unique high level ofthe omega-6 fatty acid, GLA from borage oil. Also GLA can affect the immuneresponse by altered eicosanoid production. Increased intake of GLA has beenshown to reduce clinical signs of arthritis. The diet can help reduce pain incats with arthritis. Through the production of less inflammatory eicosanoids,GLA also dampens hyper responsive inflammatory skin reactions.
Skin & coat support: The skin has anactive metabolism and a high demand for several skin related nutrients. Theincreased levels of vitamin A, E, B complex, zinc and selenium, support thehealth of skin and coat.
Easy feeding: The diet is verypalatable and is the most convenient way to provide the cat additional fattyacids.
Recommendation:
Dermatological disorders associated with hyperresponsive inflammatoryreactions, caused by atopy or flea allergy.
Skin and coat problems responsive to increaseddietary levels ofpolyunsaturated fatty acids and vitamins and minerals.
Osteoarthritis.
Conditions which improve on high levels of omega-3fatty acid intakes suchas cancer related cachexia, neoplasia, renal disease andimmune-related disorders and inflammatory conditions such as arthritis andcolitis.
Daily diet for healthy cats.
Not Recommended for:
Immuno-deficient cats.
Cats with coagulation abnormalities.
Cats with hyperlipidaemia
Ingredients:
Wheat, maize protein, eggs, fish meal, fish oil,rice, maize, potato protein, animal fat, powdered cellulose, minerals,hydrolysed yeast protein, methionine, vitamins and trace elements, plantagopsyllium husk, borage oil, taurine, sunflower oil. Antioxidant:butylhydroxytoluene (BHT), butylhydroxyanisole (BHA), ascorbyl palmitate,propyl gallate. It contains no synthetic dyes and flavouring.
Customer reviews
Product reviews are filtered by language.
The following reviews are available in English.
Very pleased. Our eldest cat is 15 and suffering with rheumatism and his movement seems more fluid again. He is also seems 'happier' to jump up and down onto things again (although still not keen, but he is 15). Our other cat is about 2 and mid-haired and her coat condition is much softer. Both