Skip to content
Skip to navigation menu
Specific Feline FSW Struvite Dissolution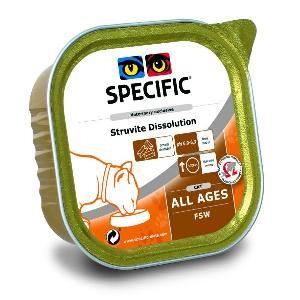 Product details
Struvite dissolution: The diet has areduced content of magnesium and phosphorus (components of struvite crystals)for dissolution of struvite stones and reduction of recurrence of struvitecrystals and stones.
Urine pH control: A urine pH at 6.0-6.3dissolves existing struvite crystals and minimises the risk of precipitation ofnew struvite crystals.
High urine volume: The increased sodiumcontent promotes diuresis, which is associated with reduced urinary mineralconcentrations and increased urinary frequency.
Skin, coat & joint support: EPA and DHA are bothomega-3 fatty acids with a beneficial effect on the maintenance of healthy skinand coat and healthy joints.
Recommendation:
Temporary diet for the dissolution of struviteuroliths.
Not Recommended for:
Urolithiasis due to calcium oxalate, ammoniumurate or cystine.
Simultaneous administration of urinary acidifiers.
Metabolic or renal acidosis.
Heart failure, hypertension and oedema.
Kittens and pregnant or lactating queens.
Ingredients:
Pork, beef, fish, maize, sunflower oil, eggs,minerals, fish oil, yeast, ammonium chloride, rice, powdered cellulose,Plantago psyllium husk, vitamins and trace elements, taurine. It contains noartificial antioxidants, dyes or flavouring.
Customer reviews
We're sorry but there are no reviews of this product in English.