Skip to content
Skip to navigation menu
Stride Plus Liquid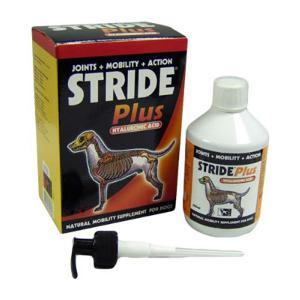 Product details
Impaired function of skeletal joints can dramatically reduce joint flexion, movement and mobility. Cats with joint problems will generally not limp like a dog and recognising joint problems can be difficult. Behavioural changes are a good indicator of severe pain. Hip dysplasia is very common in cats and will often be a significant cause of pain and decreased mobility with age.
Symptoms to look for include decreased appetite, poor grooming and matted coat, urinating and defecating outside the litter bow, reluctance to walk or jump, and reduced movement.
Stride Plus Liquid is a complementary feeding supplement which may provide nutritional support for the maintenance of healthy cartilage.
Ingredients:
Every 2.5ml contains: Glucosamine HCl 417 mg, MSM 250 mg, Chondroitin Sulphate 83 mg, Hyaluronic Acid 1833 mcg, Aspartic Acid 4.12 mg, Serine 2.47 mg, Glutamic Acid 3.02 mg, Glycine 2.19 mg, Iso-Leucine 0.82 mg, Leucine 0.82 mg, Phenylalanine 4.94 mg


Customer reviews
Product reviews are filtered by language.
The following reviews are available in English.
Time will tell

but at the moment it seems to help our 12 1/2 years old chocolate Labrador with severe arthritis in all four legs to be more mobile as before. Yes, we know there is no cure for arthritis but we are glad we listened to our friend whose dog has been taking it for years.

bought for old cat

Im sure this is very good but time will tell and I will update this review when she has been using it for a while

My 12 year old cat could no longer jump even on the settee. This supplement has made him more mobile and active, he jumps onto beds again, has re-developed his hind legs muscles and is generally back to his active old self in the garden. I definitely recommend it. The vet prescribed two squirts in t