Skip to content
Skip to navigation menu
Sureflap Mounting Adaptor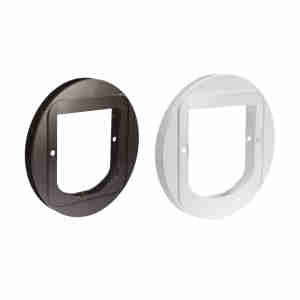 Rollover image to zoom
Product details
The SureFlap mounting adaptor is useful when installing the SureFlap Microchip Cat Flap into glass, walls and certain door types.

This accessory allows mounting in holes ranging from 210mm to 260mm (8½" to 10¼") diameter.

When mounting the SureFlap Microchip Cat Flap in a glass pane, your glazier will generally cut a circular hole, leaving open areas around the corners of your cat flap. The SureFlap Mounting Adaptor covers these open areas, preventing loss of heat from your home and providing a clean, neat finish to your installation.

The mounting adaptor overcomes the inherent problems of installing a cat flap directly into a wall. This installation technique avoids the use of messy adhesives, which can make removing your cat flap at a later date a potentially difficult exercise. It also means that you do not have to drill through any part of your cat flap during installation.

The SureFlap Microchip Cat Flap has been designed as a drop-in replacement for most existing cat flaps. However, in some instances you may find that the hole left by your previous cat flap is larger than the hole required for SureFlap. The SureFlap Mounting Adaptor provides a neat way to cover such a hole.

Customer reviews
We're sorry but there are no reviews of this product in English.