Skip to content
Skip to navigation menu
Synoquin EFA Sprinkle Capsules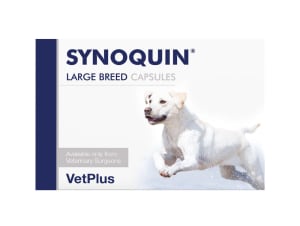 Product details

Synoquin Medium Breed for cartilage growth and maintenance. For cartilage to maintain its form and function within a joint, it requires specific compounds. The demands on your pet`s system to produce these specific nutrients are extremely high so at any one time the `reservoir` may well be low.

Increasing the supply of these compounds will guarantee their availability for your dog`s own repair processes to draw from. In this way your dog will constantly be in optimum position to maintain healthy cartilage and repair any cartilage damage that may occur.

Synoquin Medium Breed is a unique combination of naturally occurring chondroprotective agents which provide the cartilage with its key building blocks. Supplementation with Synoquin Medium Breed ensures much higher levels of chondroprotective agents than your dog could achieve from a normal diet.

Directions
Loading Programme - six weeks, 3 capsules/tablets daily (2 morning, 1 evening)

Maintenance Programme - Long Term - All dogs respond differently to supplementation.

However, in general after the initial six week Loading Programme the daily intake can usually be reduced to 1 capsule/tablet daily If the reduction causes your dog`s condition to regress, intake can safely be increased until an optimum level is reached.

Please consult your veterinary surgeon

Customer reviews
Product reviews are filtered by language.
The following reviews are available in English.
Synoquin EFA sprinkle capsules

Our dog developed a limp in one rear leg. Synoquin eased it within days.We now sprinkle one capsule on his food daily.

Synoquin sprinkle capsules

My dog had a bad limp after a operation on his spine .now we sprinkle synoquin every day .now he has no limp and running about after his ball again I would recommend it to anyone.

Synoquin EFA Spinkle capsules

Our dog developed a stiffness and had a limp on a rear leg. Synoquin soon cleared this. We now sprinkle one capsule every day on his food

Synoquin

So much easier to order via medic animal than through the local vet. Great delivery service product is great as it helps my dog walk without a limp

My horse has been on the equine equivalent and we have had amazing results. We decided to put our 10 year old beagle who was diagnosed with DJD in his neck and spine. after months of painkillers and nerve drugs we decided to try Synoquin and take him slowly off the NSAIDS etc. Oh my god my dog now is bouncing around like a two year old and even the vet is so surprised how different he looks. he has more flexibility and showing no signs of discomfort at all. Its expensive but well worth it.