Skip to content
Skip to navigation menu
You have setup the following Repeat Order: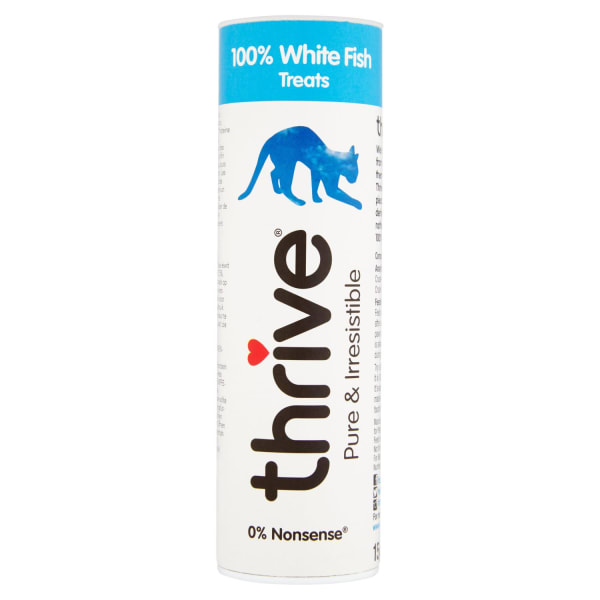 Thrive Adult Cat Treats - White Fish
Thrive Adult Cat Treats - White Fish
Thrive Adult Cat Treats - White Fish
Back in stock notification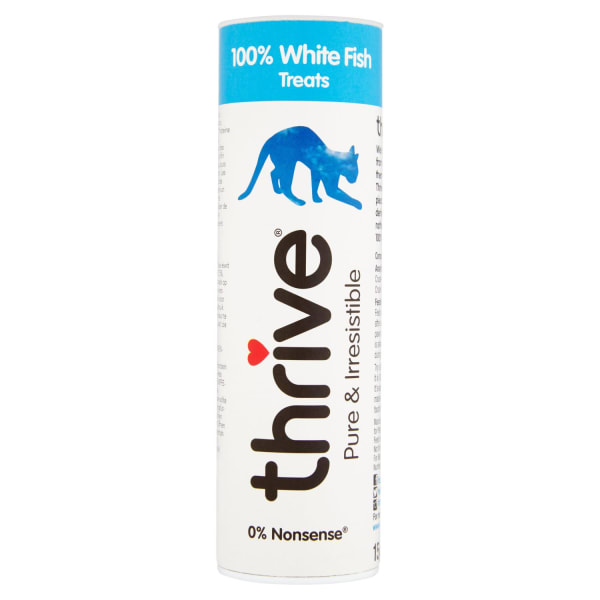 Thrive Adult Cat Treats - White Fish
Thrive Adult Cat Treats - White Fish
Enter your name and email address below then select which items you would like to be notified of when available.
Product details
Give your pet a tasty reward with these natural and healthy freeze-dried Thrive cat treats.
How it works
These bite-size treats are not only super tasty, they're completely natural too. That's because they're made from chunks of real fish and poultry that have been safely freeze-dried. The process gently removes the water content from the meat, which preserves the quality and locks in the flavour. They contain no additives, preservatives or colourings, just the wholesome nutrients of the original fish or chicken pieces. The enticing scent and taste is sure to tempt your cat. Thrive cat treats come in a resealable tube, making it easy to serve up a snack at any time.
Key benefits
available in chicken, tuna and white fish flavours
100% natural freeze-dried meat and fish
delicious taste that cats find irresistible
stored in a resealable tube
suitable for all breeds of adult cat
no preservatives, colourings or additives
When to use it
When your pet displays good behaviour, like using the litter tray correctly, you can positively reinforce this with a wholesome treat. These freeze-dried pieces can also be used to distract your furry friend when they're being groomed or can be placed inside a travel carrier to entice them in. When you're training them to use a cat flap, showing a treat on the other side of the door might encourage them to push through the flap to reach it.
If you simply wish to bond with your cat or give them a delicious snack between means, these nuggets are 100% natural and will provide a burst of healthy nutrients. The intense flavours and scents of Thrive chunks are irresistible to even the fussiest of animals. Available in tuna, chicken and white fish varieties, there are plenty of options to offer your cat so they won't become bored with the selection.
Ingredients
Composition

Chicken: 100% chicken (freeze-dried)
Tuna: 100% tuna (freeze-dried)
White fish: 100% white fish (freeze-dried)
Analytical constituents
Chicken
Protein 84.7 %, fat 4.1 %, fibre 0.2 IU, ash 5.9 %, moisture 5.1 %
Tuna
Protein 90.0 IU, fat 1.3 IU, fibre 0.1 IU, ash 3.9 IU, moisture 7.8 IU
White fish
Protein 82.4 %, fat 7.6 %, fibre 0.1 IU, ash 6.1 %, moisture 4.9 %
Feeding Guide
Feeding guide:
Supplementary food for cats. Feed up to twice daily
Always ensure that there is an supply of fresh water.