Skip to content
Skip to navigation menu
Total Mite Kill Liquid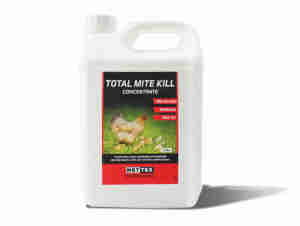 Rollover image to zoom

Total Mite Kill Liquid Concentrate is a dual-working product that is a fast working insecticide with rapid knockdown, and a multi-purpose cleaner that kills mites, fleas, lice and other flying and crawling insects.

It cleans and disinfects, and kills bacteria, virus, yeast, fungi and algae (i.e E.coli, Salmonella, Listeria and Ps Aeruginosa). Penetrating deep into crack, crevices and corners where parasites commonly hid, Total Mite Kill Liquid Concentrate has an excellent residuality on all common surfaces.


Customer reviews
We're sorry but there are no reviews of this product in English.