Skip to content
Skip to navigation menu
Trixie Alicante Scratching Post Anthracite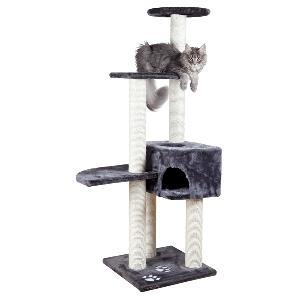 Product details
Trixie Alicante Scratching Post Anthracite is a medium sized cat tree with three platforms at various heights, a den and 6 scratching posts.
The cat tree from Trixie Alicante is a space-saving model for small to medium sized cats, which provides lots of opportunities for climbing and relaxing. The cave can be used as a hiding place or a place for rest, while the three platforms can be used to observe the room and leap from. The six sisal wrapped post will satisfy the cat's scratching needs.
Key Benefits:
Soft plush cover in a Anthracite beige with paw print design
Posts wrapped in natural sisal
Three platforms and a den provide space to relax, play or hide
Measurements:
Floor area: 45 x 45 cm
Diameter post: 9 cm
Height: 142 cm
Customer reviews
We're sorry but there are no reviews of this product in English.