Skip to content
Skip to navigation menu
Trixie Cat Activity Fun Board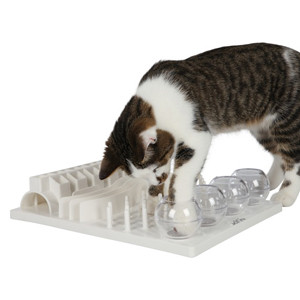 Product details
For cats over 3 months old, the Trixie Activity fun board is an intelligence toy with 5 different components to challenge your feline friend.
The bowl component gets your pet to use their touch and smell to find the opening and fish out treats. The icicle component requires them to use their vision to work out how to move the treat from the barriers. The tracks are great for elderly or less mobile cats. The treat needs to be pawed out of the track by pushing or dragging along. The mouth component requires your cat to work out that they need to use their mouth to grab the treats. The tunnel component has your cat reaching in and dragging/batting to release the treat.
Key features
Develops your cat's intelligence, problem solving skills and dexterity
5 different fun components to try
Complete with tips and tricks manual
Dishwasher friendly
Developed by cat expert Helena Dbalý
Non-slip base
Suitable for older and less mobile cats
Measures 30 x 40cm.