Skip to content
Skip to navigation menu
Trixie Grey Capri 3 Open Top transport box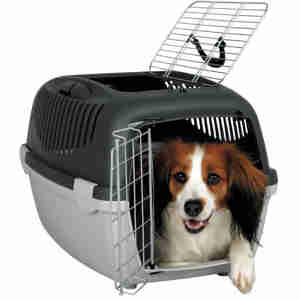 Rollover image to zoom
Product details
Travelling with your pet can be a comfortable and safe experience for you both thanks to the Trixie Grey Capri 3 open top transport box.
How it works
This transport box is ideal for trips to the vet, as the opening on the top makes it easy to lift your pet out, even if they're reluctant. When they just won't go in the metal front door, you can pop them inside from the top too. The design offers plenty of ventilation and your pet can have a look at their surroundings while travelling. This reassures them as they can see that you're there with them.
The sturdy plastic casing and handy seat belt connector keeps them safe on car journeys. This carrier is the perfect size for cats and small dogs, measuring L61 x W40 x H38 centimetres.
Key benefits
seatbelt connection for safe car travel

durable plastic casing

sturdy metal grille front door

opening on top of the carrier for easy access

well-ventilated design

suitable size for cats and small dog breeds

L61 x W40 x H38 centimetres

When to use it
If your pet seems anxious when travelling, speak with your vet the next time you're there to see if any treatments are available to calm them down. Many animals just don't like travelling in general, but there are a few things you can do to make it as stress-free for your pet as possible. Encourage them to climb inside their carrier voluntarily by using a couple of their favourite treats to entice them inside. You could make them feel even more comfortable by laying some familiar bedding and toys in the transport box in advance of any trip. Encourage your pet to nap in the box at home too, so they start to see it as a safe place and make their next journey much more enjoyable.