Skip to content
Skip to navigation menu
Trixie Mountain Rope Tracking Leash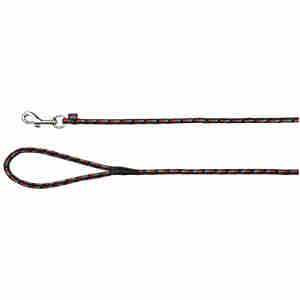 Rollover image to zoom
Product details
The Trixie Mountain Rope Tracking Leash makes it easy to keep your dog close at heel on outdoor adventures.
How it works
This leash has been designed with a range of training possibilities in mind. Teach them tracking tactics, or keep them under control if they're prone to pulling.
Made from durable nylon, the Trixie Mountain Rope Tracking Leash is chew-proof, while still maintaining a hint of stretch. It's soft enough to take your dog's weight, too, whatever their size. If your dog is prone to straining, the leash will tighten in response, letting them know this behaviour isn't ideal. What's more, it'll loosen when they respond to commands correctly and walk to heel.
The added reflective strips on the lead help you and your pet stay visible to drivers and other walkers.
Key benefits
five metres long and fully adjustable
able to take the weight and strain of any breed
can be used with tracking training
bright orange stripes and reflective strip aid visibility
When to use it
By now you'll know that your pet is easily excited and can pull quite hard on their leash when they spot a tempting distraction in the street. This can be more difficult to manage if you own a large breed such as an Alsatian or Dalmatian.
Use this lead to gain more control over your pet when you take them out for walks. It's also handy for training them in tracking tactics and is extremely durable.
When you first start using the tracking leash, we recommend refreshing your dog in common commands. This will help them get used to the leash and understand what behaviour is expected. Try placing a treat a couple of metres away from you and walk slowly towards it with your dog to heel. If your dog pulls on the Trixie leash, give them a firm 'no' and start again.