Skip to content
Skip to navigation menu
Ultima Mini Junior Dog Food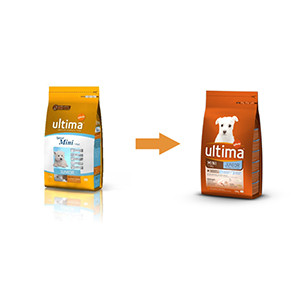 Product details
Ultima Mini Junior Dog Food is a complete dry food specifically formulated for small breed dogs up to 8 months of age, to provide them with all the appropriate energy for their growth and development.
This nutritious dry food contains a combination of antioxidants, fibres with prebiotic effect, as well as Omega 3 essential fatty acids, in order to strengthen the natural defenses of your young dog. Vitamins, minerals, and proteins of high quality ensure the muscular growth, bone, and the development of the brain and the vision. Optimal levels of protein, fats and carbohydrates ensure your dog has enough energy.
Give your puppy a good start with Ultima Mini Junior Dog Food.
Key benefits:
for junior dogs of all small breeds
High quality proteins from carefully selected meats maintain healthy muscles
With EPA and DHA in fish oil for brain and vision development
Reinforced teeth and bones thanks to the essential minerals
Enriched with Omega 3, 6 and zinc for healthy skin and coat
Adequate energy intake, thanks to a balance of proteins, fats and carbohydrates
Rich in vitamins, minerals and high quality protein for healthy growth
Fibres help maintain optimal digestion
Ingredients
Composition:
Chicken (18%), dehydrated bird proteins, corn protein, whole wheat (13%), rice (10%), animal fat, corn (4%), hydrolysed animal proteins, corn flour, beet pulp, yeast , fish oil (source of DHA), salt, potassium chloride.
Analytical constituents:
Protein 31%, fat content 19.5%, crude fibres 2.5%, inorganic material 6.5%
Nutritional additives:
Vitamin A 27000 IU, Vitamin D3 1800 IU; Vitamin E 410 mg, Vitamin C (sodium and calcium ascorbyl monophosphate) 350 mg, Biotin 0.9 mg; Taurine 1200 mg, Vitamin B6 (pyridoxine hydrochloride) 11.3 mg, Ferrous sulfate monohydrate 235 mg (Fe: 78 mg), Potassium iodide 1.7 mg (I: 1.3 mg), Copper sulfate pentahydrate 30 mg (Cu: 8 mg), Manganous sulfate monohydrate 111 mg (Mn: 37 mg), Zinc sulfate monohydrate 490 mg (Zn: 174 mg), Sodium selenite 0.2 mg (Se: 0.1 mg). With antioxidants.
Feeding Guide
Recommended quantity/day:
Junior
Months (grams)
Dog`s weight (kg)
2-4 months
4-6 months
6-8 months
8-10 months
1-3
30-75 g
35-80 g
34-75 g
30-70 g
3-5
55-115 g
75-120 g
80-105 g
75-100 g
5-10
95-195 g
115-195 g
120-170 g
105-165 g
Bitches

Grams

Dog`s weight (kg)
Pregnant
Lactating
1-3
30-75 g
35-80 g
3-5
55-115 g
75-120 g
5-10
95-195 g
115-195 g
Always make sure your dog has access to plenty of water.