Skip to content
Skip to navigation menu
Verm-X Pellets For Poultry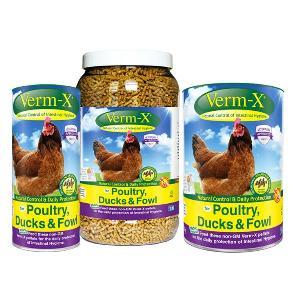 Product details

Verm-X for Poultry is available as both a macerated liquid and a pelleted formulation. Both forms are equally effective and have been produced due to the growth of organic and bio-diverse natural farming methods. The unique liquid formulation is produced through a three week macerating process that ensures its effectiveness and quality.

Verm-X Liquid is fed by adding the measured amount to your birds drinking water for three consecutive days each month throughout the year and disallowing any other drinking water for the 3 days per month you add Verm-X. A further advantage of Verm-X over chemical based products is that if you are growing your birds for your dinner table there is no withdrawal period after using Verm-X prior to eating. Each bottle is supplied with a measuring cup.

Liquid ingredients:
Allum sativum, ulmus fulva, mentha piperita, thymus vulgaris, galium aperine, cinnamomum zelandicum.

Verm-X Pellets for Poultry are 2mm in diameter and mix well into regular manufactured feeds or home made feeds. Produced under licence by Gro-Well Feeds Limited in Wiltshire brings over 35 years' of feed production experience. All ingredients are natural and non-GM and the pellets are produced in one of the UK's only low temperature pelleting facilities to avoid damaging the ingredients during production.

Being a 100% natural herbal formula, there is no egg withdrawal period. Verm-X is easy to use by adding to your birds feed for three consecutive days each month. Additionally the small pellets can be mixed into manufactured or home-mixed feeds.

Pellets ingredients:
Sunflower oil, seaweed meal, dicalcium phosphate, allium sativum, cinnamomum zelandicum, mentha piperita, thymus vulgaris, galium aperine, capsicum minimum.


Customer reviews
Product reviews are filtered by language.
The following reviews are available in English.
gentle wormer

I have used this product for years to help keep my chickens healthy.