Skip to content
Skip to navigation menu
You have setup the following Repeat Order: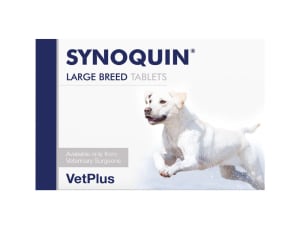 VetPlus Synoquin EFA Chewable Tablets for Large Dog
Product details
Synoquin EFA Chewable Tablets are an effective daily joint supplement for older or active dogs.

How it works
Synoquin EFA Chewable Tablets give your dog the essential vitamins and nutrients that might be missing from their diet. These tablets are an easy-to-administer supplement to your pup's everyday routine.
Packed with omega-3 fatty acids, they help to keep joints supple and minimise swelling ' well-suited to older dogs or those who are more active. They help to soothe inflammation, helping pets with mobility issues feel more comfortable. Synoquin also increases blood flow while your pup is out for a walk.
Naturally occurring chondroitin and glucosamine help to repair cartilage, which can become worn with age and exercise. The purified krill oil used in these tablets is rich in astaxanthin ' an antioxidant known for relieving pain and reducing inflammation in sore or stiff joints.

Key benefits
purified krill oil helps to relieve pain and soothe inflammation of the joints
chondroitin and glucosamine help to repair and rebuild cartilage
chewable tablets are easy to administer
omega-3 fatty acids keep joints supple
two sizes for large and small/medium breed dogs.
When to use it

Keep an eye out for the signs that your dog is experiencing mobility issues. If they're not as active as they once were, they're limping, holding out a limb to you or they struggle to climb stairs, they could have a problem with their joints. Take them to the vet as soon as possible for a check up.

Play and daily walks can have an impact on your pup's joints as they get older. Taking a little extra care of your dog's diet could help make them more comfortable and keep them active into older age. Synoquin EFA Chewable Tablets are available in two sizes ' for medium and large dogs. Always follow the instructions on the packet for your pet's size and breed.